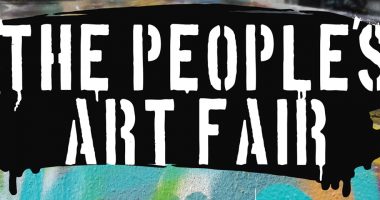 People's Art Fair September 2022
15/09/22 - 25/09/22
All day
FREE
More details: https://prsc.org.uk/event/peoples-art-fair-sep22/
---
Opening night: Thursday 15 September, 6-9pm
Exhibition open daily: 12-6pm, Friday 16 – Sunday 25 September
FREE ENTRY
The People's Art Fair (PAF) is founded on the principle that together we are greater than the sum of our parts. Acting as a celebration of culture and expressive art, PAF deliberately brings together artists from all backgrounds and styles to create a visually rich and completely unique exhibition with political street art hanging alongside landscape painting, alongside street photography, alongside fantastical collages, and so on. These works interact with one another, offering an inspirational, connection building experience for the visitor which can rarely be found in more targeted shows.
The People's Art Fair aims to break down the barriers that stop young, marginalised or aspiring artists from getting their work in front of an audience. The line up of artists in this show includes established professional artists, young creatives, homeless people, illegal graffiti writers, print collectives and refugees. We are proud to boast that the People's Art Fair brings you a creative community as mixed up and interesting as our own local population.
Exhibition features art by over 50 artists, including:
Marta Zubieta, CRACKBABY, Mike Stuart, TwoBirds Art, Rafael Duncan, Criminal Mind, Mandi Collingridge, General Bench, Paul Saville, Lauren Jobe, Lansdall, Romy Walker, Lisa Travers, DazCat, Nils Agger, Martha Makes It, Pablo, Julie Prior, Caitlin Goodall, John Clifton, Zanna, Tom Davies, Jacob Moon, Mez, Mark Povey, jen0mi, Mr Sleven, Stokes Croft China, Holly Foskett-Barnes, H. V Povey, Keep StuM, BIKEBONESBRISTOL, Kat Martin, Gabrielle Ruffle, Dragon Hands, Max Middlewood, roscats, Marlon Lorenty, Object…, Andrung Heinzelmann, Broccoli Qu33n, David Hyde Fierce, Lazo, Adam Rush, Rafe Grimes, Urban Faye, Dayne Griffiths, Jules Berthe, Dan Petley, Moonshine, Scarlett Brown, Octopus Odyssey, Pavlo Hulievatyi, Gyassi, Mary Flora Hart, Raluca Bobis, Phil Constable and more…
We know art isn't just paintings hanging on walls, so alongside every PAF exhibition we bring together a line up of activities that follow the principles of the art fair, offering a platform to creatives to share their talent, or workshops to develop creative skills, or open artistic sessions.
More info: People's Art Fair September 2022