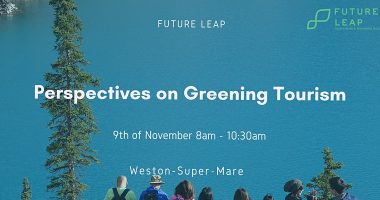 Perspectives on Greening Tourism
09/11/21
08:00 - 10:30
£13.37 – £19.20
More details: https://www.eventbrite.co.uk/e/perspectives-on-greening-tourism-tickets-160967124001
---
Tourism has been one of the industries worst-hit by the Covid-19 pandemic. But as destinations slowly start to emerge from lockdown and borders tentatively reopen, many in the sector are wondering if this is a chance for tourism to rebuild in a greener, more sustainable way.
Sustainable tourism needs to address ecological and climate concerns whilst improving quality of life for local residents. It also needs to make business sense – how can a tourism business find financial value in going green?
Speakers from Noah's Ark Zoo Farm, Tourism Declares/Much Better Adventures and North Somerset Council will be joining us to discuss further.
Tourism businesses are looking towards a greener future. Join us at this business breakfast to take part in the discussion.
Expect informative talks, valuable networking opportunities and inspiring discussions to further support your ability to discover, collaborate and innovate.
This event has a focus on North Somerset but will be valuable to businesses everywhere looking to understand sustainable tourism.
If you purchase a physical ticket but the event is moved fully online, you can choose to have your ticket fully refunded or attend virtually with a partial-refund.
Alex Narracott, Much Better Adventures and Tourism Declares
Alex Narracott from Much Better Adventures and Tourism Declares will give an overview of the climate emergency movement in tourism and how local tourism businesses can take action. The likes of visit Scotland and visit Gloucestershire are amongst the destinations to have declared an emergency, alongside many businesses across accommodations, tour operators and attractions – how can you get involved?
Mark Canniford, North Somerset Council
As a key commitment in its new Economic Plan, North Somerset Council published a Visitor Economy Action Plan which recognises the fact that many of the sectors making up the visitor economy are those which have been hardest hit by the pandemic, and many people working in these sector are often in precarious, seasonal and low paid work. This plan provides a series of actions the Council will take to support the Visitor Economy by increasing its value, visibility and diversity. An overview of this work will be provided with a focus on the areas which seek to work with businesses to improve their sustainability. We're excited about the potential of this sector and emerging opportunities to build a resilient visitor economy in North Somerset'.
Clare Wesener, Marketing Manager at Noah's Ark Zoo Farm, will be talking about "Our Green Zoo".
Sustainability is at the heart of everything Noah's Ark Zoo Farm do – Clare's presentation shows the journey from a dairy farm to the largest zoo in the Southwest. It covers generating their own power, rainwater harvesting and recycling. Clare will also talk about product sourcing from produce in the café and how their building materials and printing is sustainable. With over 20,000 school visits, Noah's Ark Zoo Farm's education programme highlights some of the issues facing endangered species and what can be done to help. This is brought to life in their many events that they hold each year.
Agenda
08:00 – 08:25 – Registration, Refreshments and Networking
08:25 – 08:35 – Introduction
08:35 – 08:50 – Alex Narracott, Much Better Adventures and Tourism Declares
08:50 – 09:00 – Q&A
09:00 – 09:15 – Mark Canniford, North Somerset Council
09:15 – 09:25 – Q&A
09:25 – 09:40 – Clare Wesener, Noah's Ark Zoo Farm
09:40 – 09:50 – Q&A
09:50 – 09:55 – 60 Second Pitches
09:55 – 10:00 – Close
10:00 – 10:30 – Networking & Nibbles