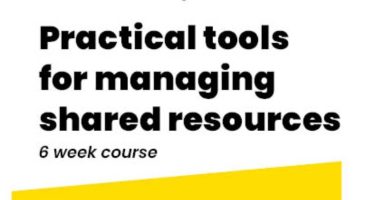 Practical tools for managing shared resources
Activism
Training
Workshop
03/05/23
18:45 - 21:15
£75 full contribution £55 basic costs £35 concession Full bursaries available by ap
More details: https://praxis-research.co.uk/bristol-school-of-commoning/
---
By Bristol School of Commoning
This course is for anyone who is working together with others in your community, whether you are running a community centre, sharing tools, or providing care, food distribution or other activities.
We invite you to bring your experience and knowledge of community support networks. The tutor will bring a course structure that explores your experience in the context of tried and tested frameworks for successful community collaboration.
The framework we will use is 'commons' – meaning the parts of the economy which aren't delivered by the state or market, and which are beyond the household scale – everything we do together informally within our communities, for the benefit of each other. Commoning activities are typically organised by groups of people who share some form of interdependence – whether because they live near each other, are in a religious community together, or share access to a resource.
"The commons" is everything that enables us to survive and thrive and live well and connect beyond what is provided by the market and the state, and beyond what we have in our households. It is important for everyone, but especially essential for people who have unstable incomes. Commons are still being enclosed and marketised and damaged. We need to learn to see and protect them.
You are all teachers in this school as well as students. We'll all learn together and hopefully build lasting, mutually supportive relationships with each other through the process.
Praise for Autumn 2022 course:
"This course built community between everyone who attended"
"I moved from confusion towards knowing something at a primal level of what commons means to me and a hunger for commons to return in full glory for everyone."
"Emilia brought us together from all walks of life and intentionally looked for diversity."
"Emilia was patient and clear when we went into more theoretical areas, and made a supportive and safe atmosphere when we were exploring the application of ideas in our own lives and projects."