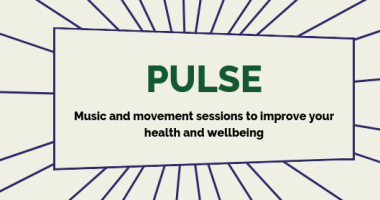 PULSE – Music sessions to improve mental health
More details: https://bristolbeacon.org/music-for-everyone/pulse/
---
PULSE is for adults who wish to improve their health and wellbeing through music and movement.
Created by Bristol Beacon in collaboration with Southmead Development Trust, PULSE is run with monthly drop-in sessions and a regular weekly group and offers music making and physical exercises for people of all abilities.
Drop-in to one of our monthly sessions or attend every week.
Sessions start as a coffee morning with refreshments, and then move into music making, movement and listening.
During the session you might:
Enjoy refreshments with others
Make music with instruments and singing
Move your body to music
Relax, listen and breathe
Weekly Group – Beacon Music Centre, Southmead, BS10 5SJ. Wednesdays 11am-1pm.
Monthly Group – Greenway Centre, Southmead, BS10 5PY. Various dates and times.