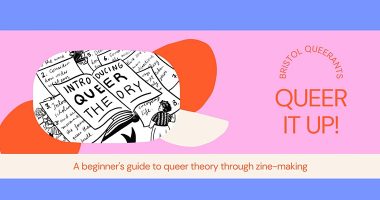 Queer It Up! A beginner's guide to queer theory through zine-making
28/04/22
19:30 - 21:00
FREE
More details: https://www.eventbrite.co.uk/e/queer-it-up-tickets-291232804157
---
Bristol Queerants is a new queer/feminist discussion group.
The theme of our next event is Queer It Up! – a beginner's guide to queer theory through zine-making.
We will present a short overview of some books that offer a unique portrait of the universe of queer thinking. This includes Meg-John Barker's and Julia Scheele's Queer: A Graphic History and Gender: A Graphic Guide. We'll then invite you to create your own queer graphic guides through zine-making. As always, we do not expect you to have read these guides in order to attend the event. (Think of us as a reading group without the reading.)
Creative materials will be provided for everyone to use, though do feel free to bring along your own zine-making materials too.
For more info and to register:
https://www.eventbrite.co.uk/e/queer-it-up-tickets-291232804157
About Bristol Queerants
Bristol Queerants is a new queer/feminist discussion group to explore writing on gender and sexuality.
Each month, Bristol Queerants aims to provide a friendly, social and supportive space in which to talk about a whole a range of writing on gender and sexuality – from academic research and theories to manifestos, memoirs, and zines.
It's open to everyone regardless of what level of experience you have in reading around this topic.
We have a pretty broad focus including things like environmental, intersectional and broadly leftist perspectives, along with queer and feminist angles – so it's very much open to what you're interested in. Our main aim is to create an inclusive and informal space.
For more updates: