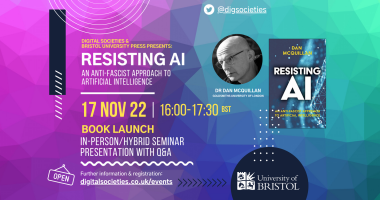 Resisting AI: book launch and discussion
17/11/22
16:00 - 17:30
FREE
More details: https://www.digitalsocieties.co.uk/events/resisting-ai
---
This talk and discussion is a book launch for Resisting AI: An anti-fascist approach to artificial intelligence.
Dan will argue that, rather than being a solution to complex social problems, AI creates divisions that limit people's life chances and even embeds a fascistic logic into social life. He will suggest that refusing AI creates opportunities for different ways of relating through solidarity and mutual aid.
The event will be held in Physics Building 1.11, Tyndall Lecture Theatre, University of Bristol and is open to all.