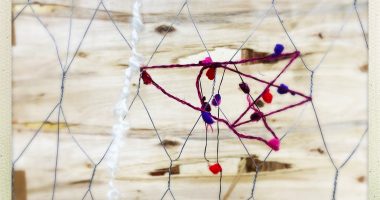 Rezia Wahid: Weaving Light Installation & Public Weaving Frame
19/02/22 - 26/03/22
10:00 - 15:00
FREE
Rezia Wahid MBE is a Bangladeshi-born British textile artist and designer. Her work has been exhibited world-wide.
Rezia's Weaving Light installation is on view until March 26. While you're visiting Eachwhat Studio, you can weave your personal words or visual lines on a 2 metre square wooden frame using recycled materials to create a public art tapestry. The activity is suitable for all ages, you don't need to 'know' how to weave or write poetry.
Installation & Public Weaving Frame is at:
Eachwhat Studio
Unit 18
The Broadwalk Centre
Bristol
BS4 2QU
Eachwhat Studio is the work/event space for poet and artist Paul Hawkins. Paul co-runs Hesterglock Press, who publish Weaving Light: Writers & poets on the woven art of Rezia Wahid which features a beautiful selection of Rezia's work, as well as work by a collection of international writers and artists; cris cheek, Geraldine Clarkson, Kelvin Corcoran, Dr Catherine Dormor, Sasha Dugdale, John Goodby, Khaled Hakim, Moustafa Hassan. Dr Alexandra Makin, Imogen Reid, Yasmine Seale and Rose Sinclair.
Weaving Light is published as a full-colour, 140 page hardback edition in April.
Eachwhat Studio is made possible by Hypha Studios, a charity that matches artists with empty spaces.