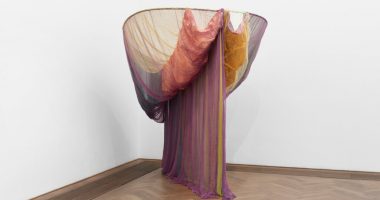 Rosemary Mayer: Ways of Attaching
08/10/22 - 15/01/23
12:00 - 17:00
FREE
More details: https://www.spikeisland.org.uk/programme/exhibitions/rosemary-mayer/
---
Showing at Spike Island Saturday 8 October 2022 – Sunday 15 January 2023 (Free entry)
The first institutional survey exhibition of artist Rosemary Mayer (1943–2014), covering over thirty years of her prolific and varied practice. The exhibition includes emblematic works including large fabric sculptures, travel diaries and fleeting performances of the 1970s through to pastels, watercolours and other works on paper from the 1990s. Highlighting Mayer's formal interest in draping, knotting and tethering, the show focuses on the construction of real and imagined networks, in which friends and historical figures feature in expressions of affinity and attachment.
Ways of Attaching marks the most comprehensive presentation of Mayer's artistic practice to date, and the first time her work has ever been shown in the UK. The title is purposefully equivocal: Attaching is not only a method for binding materials together, but also for establishing emotional connections with friends and peers, past and present, which was central to Mayer's understanding of art.
Find out more about the exhibition here
The preview for this exhibition is on Friday 7 October. Find out more and book tickets here
Image credit
Rosemary Mayer, Scarecrow (1978-79). Courtesy the Estate of Rosemary Mayer.
Image description
In a white-walled gallery space, a sculpture is suspended as if in mid-air. Swathes of delicate fabrics in yellows, oranges and purples hang from a large ring like structure at the top, allowing the fabric to hang down like a curtain to touch the parquet wood gallery floor.