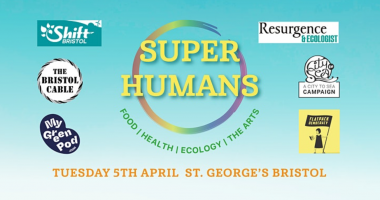 Super Humans of Bristol – How to create good stuff in your community
05/04/22
18:45 - 21:45
£12-19
More details: https://www.eventbrite.co.uk/e/super-humans-of-bristol-how-to-create-good-stuff-in-your-community-tickets-88772887095?fbclid=IwAR0R5pEUxfIIhasBZ3TnEcSR_rmDYuKScQ_jZCtW-8ZRFTgX8PG7KPQNIgc
---
Bristol Super Humans – How can we create good stuff in our local community?
It's a simple question but one most people do not know the answer to.
Bristol Super humans is a panel of inspirational speakers who will be offering lots of practical solutions helping us to find our super powers and create positive stuff in our local communities. Areas of discussion will be based around of food, health, environment and the arts.
The event will consist of a short 7 minute poetic performance from Bristol legend Selby, a one hour panel talk, a short break and then an interactive Q&A with you the audience.
We will giving you loads of great contacts and groups in the Bristol area so you can join them or learn how to start your own community project.
This event is in partnership with Shift Bristol, Bristol Cable, My Greenpod, City to Sea, Flatpack Democracy and Angelfish Films.
Please share our Facebook link too and help your friends find their super power.
Our Panel on the 5th April.
Peter Macfadyen – Flatpack Democracy -https://www.flatpackdemocracy.co.uk/
Natalie Fee – City to Sea
Jarvis Smith – My Greenpod
Peter Macfadyen and his friends gathered in a pub one evening and decided to create an independent party called Independents for Frome (IfF). This community mind set resulted in a small Somerset town voting against traditional party politics and gave a coalition of independents control of all 17 seats on its council.
Since IiF has been in power the town has experienced many positive changes including a much improved music venue, a share shop, community fridge, various food co-ops, the mens shed, people led support groups, mentoring services for young adults and many other exciting community led initiatives.
As the crucible of 'flatpack democracy', Frome is leading a small-scale political revolution – and it's one that is spreading.
You can read more about Peters work in this Guardian article.
Natalie Fee is an award-winning environmentalist, author, speaker and founder of City to Sea, a Bristol-based organisation running campaigns to stop plastic pollution at source.
Jarvis Smith, media owner of My Green Pod, founder P.E.A. (People. Environment. Achievement.) My Green Pod is the UK's leading independent ethical lifestyle media company producing a magazine, website and Awards.
Jarvis made a life changing commitment to millions on channel 4's 'eco' observational documentary 'Dumped', to focus his life's work on inspiring the masses to live more consciously about the circumstances that effect our environment.
Zion Lights is a serious change maker. Zion is a science communicator who is known for her environmental advocacy work. She is Founder of the evidence-based climate activism group Emergency Reactor. She is author of The Ultimate Guide to Green Parenting, and a keen astronomer who has given a TED talk on stargazing.