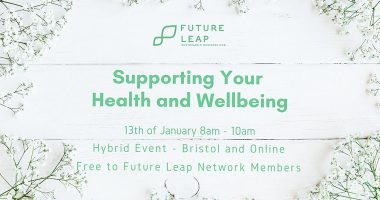 Supporting Your Health and Wellbeing (Your New Year's Resolution)
13/01/22
08:00 - 10:30
£0-25
More details: https://www.eventbrite.co.uk/e/supporting-your-health-and-wellbeing-your-new-years-resolution-tickets-211083224607
---
Supporting our health and wellbeing is essential to our resilience, happiness and ability to adapt.
The last two years has shown us how quickly and dramatically our external world can change. Whether it is politics, the pandemic or the climate emergency – our internal worlds need support. We need to be creating stronger structures for confidence and support to flourish.
Considering how much time we spend at work, it's not surprising that workplace environments and culture affect our wellbeing. How can we create healthy working environments and practices that not only benefit business, but benefit our employees and customers?
So what is your New Year's Resolution? Join us at this hybrid breakfast event to learn more about health and wellbeing.
Future Leap are excited to welcome St Monica Trust, Finding True North and Somatic Coach Leyth Hampshire to speak at this event.
Future Leap offers a spacious, covid-compliant event space with MHVR air conditioning units which take out old air and bring new air in. We also have reduced our capacity so you can be mindful of each other's space. We ask all physical attendees to take a lateral flow test before arriving.
If you purchase a ticket to this event and it moves online-only due to covid-19, you will be welcome to a full refund, a partial refund and online attendance, or a ticket swap at your discretion.
Government guideline and pandemic dependent, this event will take place physically and virtually. Both options offer the full event experience, including networking, Q&A and our famous 60 second pitches. Virtual attendees will need to B-Y-O-Breakfast!
If you purchase a physical ticket but the event is moved fully online, you can choose to have your ticket fully refunded or attend virtually with a partial-refund.
Naomi Stone, St Monica Trust
Naomi Stone from St Monica Trust will be speaking about the impact of nature on the working day and pro-environmental behaviours.
During a time when our lives are increasingly spent indoors and in urban environments, and with the emerging climate emergency, Naomi reflects on our collective experiences of nature during the COVID-19 pandemic. She shares research on how spending time in and around nature is important for positive well-being and has potential to cultivate individuals' pro-environmental behaviours.
Ann McCluskey, Finding True North
The upending of life since March 2020 has stress-tested every one of us and we have learned that our ability to adapt is essential if we are to thrive. Left unchecked, stress – followed by fear – is the greatest cause of all illnesses.
Ann will begin her session with a short meditation practice which is one of the most effective ways of reducing stress – having the space to relax, calm the mind, and release any tension held in the body is both healing and restorative.
In the talk that follows, she will take you through practical techniques and simple lifestyle changes that will help you to find peace of mind in weathering life's storms.
Leyth Hampshire, Somatic Coach
Leyth will be exploring how organisations, individuals and teams can use Somatic practices to find more balance in their life work and life alongside unlocking more potential. Somatic coaching is a transformational process that empowers individuals to fulfil their commitments more effectively and to work more skillfully with others whilst embodying new, generative ways of being. He will be sharing how he empowers individuals to cultivate their physical and mental well-being through the use of proven tools and practices. Allowing a shift into a more holistic way of working and living.
Agenda
08:00 – 08:15 – Registration, Tea/Coffee and Networking [Plus Virtual Attendees Networking Session]
08:15 – 08:25 – Introduction by Future Leap
08:25 – 08:40 – The impact of nature on the working day and pro-environmental behaviours – by Naomi Stone, St Monica Trust
08:40 – 08:50 –  Check in and Short Meditation by Ann McCluskey, Finding True North
08:50 – 09:00 – Tools for handling stress and leading the way by Ann McCluskey, Finding True North
09:00 – 09:15 – Finding Balance & Unlocking Potential with Leyth Hampshire, Somatic Coach
09:15 – 09:45 – Q&A
09:45 – 09:50 – 60 Second Pitches
09:50 – 10:00 – Close
10:00 – 10:30 – Optional Networking & Breakfast [Plus Virtual Attendees Networking Session till 10:15]
Meet the Speakers!
Naomi Stone, St Monica Trust
With over twenty years' experience as an HR practitioner, my ethos is to apply psychological evidence to engage and motivate teams and individuals at work. I use the principles of positive psychology to elicit behavioural change and to improve people's working lives. I work at St Monica Trust a South West UK based health and social care provider in delivering engagement, well-being and reward strategies. My specialism is biophilia (the human-nature connection) relating to well-being at work, which stemmed from conducting a post-graduate systematic review and dissertation study into biophilia and the workplace.
I see our innate connection with nature as a driving force in bridging the gap between our innate needs as humans and the way many of work and live. My career spans the legal, charity, logistics and academic sectors. I deliver team workshops, coaching, public speaking, psychometric testing (BPS Registered Qualifications in Test Use Levels A and B) and I'm proud to be recognised as a Principal Practitioner with the Association for Business Psychology and a member of the BPS.
Leyth Hampshire, Somatic Coach
Over the last 7 years, Leyth has a track record of launching startups, working with local councils and the European Union in the fields of climate change, entrepreneurship and social innovation. He has spent time living and working in Europe, Asia and North America focusing on putting into practice his past experiences and my Global Management MSc into corporate digital strategies, start-up growth and consultancy. After 4 years of practice, he is now an experienced breathwork practitioner, somatic and team coach. He applies holistic practices towards human development and performance for individuals, teams and organisations.
Ann McCluskey, Finding True North
Throughout Ann's high-octane corporate career, she specialised in the human factors of change and in providing support for wellbeing and recovery throughout re-structures.
In her business, 'Finding True North', Ann teaches business owners, professionals, and organisations how to disconnect from 'interference', overcome stress and anxiety, reconnect with clarity, and restore a sense of purpose within their lives. She provides coaching, delivers webinars/workshops, designs 'Bridging Minds' programmes, and is a regular speaker at both local and national events and conferences.