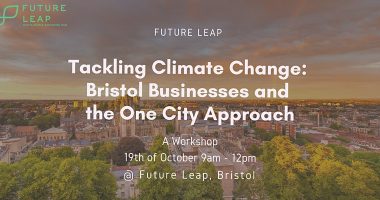 Tackling Climate Change: Bristol Businesses and the One City Approach
19/10/21
09:00 - 12:00
£5.06 - £15.60
More details: https://www.eventbrite.co.uk/e/tackling-climate-change-bristol-businesses-and-the-one-city-approach-tickets-165412692817
---
Are you a local business looking to develop a net zero plan but don't know where to start?
Are you looking to understand what Bristol as a city is doing to tackle climate change and how to get involved?
Bristol is a pioneering international city that is a global leader in sustainability, a European Green Capital and has recently been awarded the gold standard for sustainable food.
In November 2008 Bristol was the first UK city to declare a climate emergency, followed by the majority of UK councils, Bristol businesses and organisations and by the national government. The city's ambition is to reach net zero emissions by 2030, ahead of the national target of 2050, as befits a city of pioneers and trailblazers, and as a global leader in sustainability.
The One City Climate Strategy (OCCS) sets out a framework for how the city can do this, covering 10 themes and 6 enabling conditions. The One City approach recognises that no one organisation, including the council can decarbonise a city – and so every organisation and business in Bristol, and every Bristol citizen needs to do their bit, to enable Bristol to be net zero by 2030.
This workshop will introduce the One City approach, the One City Climate Change Strategy and then discuss the solutions to your business and organisation decarbonising your operations.
If you purchase a physical ticket but the event is moved fully online, you can choose to have your ticket fully refunded or attend virtually with a partial-refund.
Agenda
09:00 – 09:15 – Registration, Networking and Catering
09:15 – 09:25 – Introduction
09:25 – 09:35 – 20 Second Audience Pitches
09:35 – 10:35 – Workshop Part 1
What the One City approach means for Bristol
The Climate Change strategy
Where are Bristol businesses at?
10:35 – 10:45 – Break
10:45 – 11:45 – Workshop Part 2
No regrets guide to decarbonisation
Electricity, heat and transport (and waste)
The challenges to Bristol businesses
How can we solve these challenges?
11:45 – 11:50 – Close & Upcoming Events
11:50 – 12:00 – Optional Networking
Meet The Workshop Leaders!
Dr Emily White, Climate Change Project Manager, Bristol City Council
Emily is focused on the challenge of changing the way buildings are heated to reduce carbon emissions. This means replacing fossil fuel boilers with electric heat pumps and district heating networks. Her work involves coordinating the teams across the council who are working towards this goal and developing an action plan to accelerate the transition to low carbon heating by 2030. Before joining Bristol City Council, Emily was working on heat decarbonisation at the Department for Business, Energy and Industrial Strategy and prior to that completed a PhD in atmospheric chemistry at the University of Bristol.
Richard Martin, Climate Change Project Manager, Bristol City Council
Richard coordinates the delivery of the One City Climate Change strategy with external stakeholders, actors and partners. Before joining Bristol City Council he worked for Friends of the Earth and Greenpeace in a number of roles in the UK, India, SE Asia and most recently as the regional program director for the Middle East.