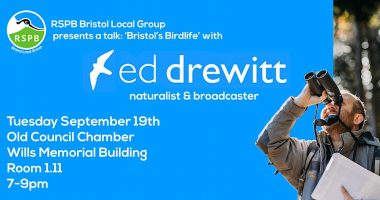 Talk: Bristol's Birdlife with Ed Drewitt & RSPB Bristol
19/09/23
19:00 - 21:00
5.00
More details: https://www.eventbrite.com/e/bristols-birdlife-a-talk-by-ed-drewitt-tickets-693431521347?aff=oddtdtcreator
---
From the air (or Google maps!) Bristol reveals a diverse range of environments, often connected by gardens, parks, the rivers Avon & Frome and the Harbourside. In this evening's talk Ed will be talking more about some of these different habitats and the types of birdlife they attract, alongside how bird populations have been changing across the city over the recent decades. While it bids farewell to some of our specialist birds (for now!), the city plays host to many more chiffchaffs, blackcaps and ravens, amongst others, than it has done in recent times.
Ed is a freelance naturalist, showing people wildlife (especially in the Forest of Dean where he lives) and a learning advisor, developing learning resources and toolkits for various wildlife organisations. He has been studying urban-dwelling peregrines for 25 years and is currently doing a part-time PhD at the University of Bristol looking at what they eat. Ed is also involved with monitoring pied flycatchers at the RSPB's Nagshead Reserve. Ed lived in Bristol for 18 years and still works across the city doing wildlife-related things!
All ticket sales go directly to the RSPB Local Group, to help us put on more local events.