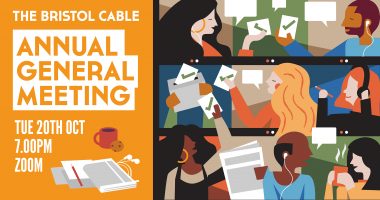 The Bristol Cable AGM 2020
20/10/20
19:00 - 20:15
FREE
CALLING ALL BRISTOL CABLE MEMBERS
You're invited to our biggest event of the year – the Bristol Cable AGM 2020!
(log-in required)
Our AGM is the most important moment in the Cable year for us all to come together, reflect, celebrate and look to the future. This is where the co-op's staff update members on what's been happening and get your help for planning what's next.
This year our AGM will be online. This is obviously no substitute for face to face discussion but we hope this means even more people will be able to join than usual. We're keeping things relatively short but with lots of opportunities for people to ask questions, and chat to each other and the staff team throughout the event.
See you there!
---
The RSVP form includes a section where you can let us know about any access needs. We'll send you an agenda ahead of time so you can know what's planned.
You must be a member of the Bristol Cable to participate in the AGM. You can join the Cable here: thebristolcable.org/join
FAQs
What is an AGM?
Our 'Annual General Meeting' (AGM) is our annual meeting of everyone who's a member of the Cable.
What's it for?
As a democratic, member-owned organisation, our AGM is where important feedback and scrutiny happens. Members will feed into big decisions or questions the organisation is facing, as well as electing new member-directors, who help guide the staff team. You'll be able to scrutinise our financial accounts and hear all the updates on how the co-op's been working this year.
Is it boring?
Well, our AGM isn't! We prioritise actual discussion and connection rather than dry procedure. Expect to meet people, have interesting conversations and updates, and be able to feed into the Cable through your feedback or questions. For a flavour of the event take a look at this video of our face-to-face AGM last year.
Do I need to come?
No, but we'd love you to! As a member, your monthly contribution and membership is already a brilliant and appreciated way in which you support the Cable. But if you're interested in hearing more about what we've been up to, meeting some other members, and giving your opinion on some things – come along!
I don't have a device / internet to access Zoom
We want to make sure the event is as accessible as possible.
You can also access the event by dialling in we will send you an email with more details after you RSVP.
If there's anything more we can do to help you attend the event, please contact the event organiser Cait: cait@thebristolcable.org.