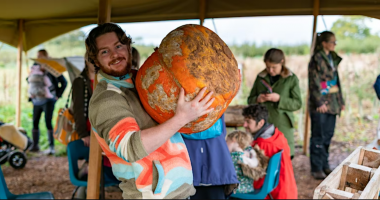 The Community Farm's big harvest fundraiser!
01/10/22
All day
Adult ticket £8 | Child Ticket £4
More details: https://www.thecommunityfarm.co.uk/events/the-community-farm-s-big-harvest-fundraiser
---
Help us raise funds at our Autumn Equinox shin-dig as we celebrate the end of the summer harvest.
Over the last 12 years we've turned empty fields into a thriving local hub that means so much to so many. Our fields and hedgerows are abundant with food for our whole community (even the bees!). So come and join our community farmers and friends here at The Farm for some hands-on harvesting fun!
There will be a bar selling local ciders, beers, organic apple juice, hot drinks and seasonal sustenance from our fields designed by local food wizards Wild Thyme Kitchen.
We'll have fun harvest games for all the family in the fields. In the Learning Area, dip into activities including guess the weight of our prize giant pumpkin, tucking the insects up for winter in their own hotel, music from Nat, meadow meditations, apple pressing, spooky local ghost stories around the fire, harvest songs celebrating our land-working ancestors from folk singer Susanna Waters, and… we have some brilliant prizes for our raffle, winners of which will be announced on the day.
*Please note that this is an outdoor event so if the weather is not on our side, and we have to cancel, you will of course receive a full refund (we will notify you of this 2 days before the event date).