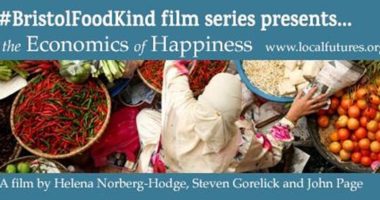 The Economics of Happiness – Online Community Screening with Bristol Food Network
12/08/20
20:00 - 21:00
free
More details: http://bit.ly/bfoodkindfilm5
---
Join our community for an online screening of this moving and uplifting film that envisions a future where community and small scale action are the norm, where our economies are structured to bring fulfillment and prosperity to the many and not the few, where localization means health and happiness.
"It's a superb movie. I think it ought to win an Academy Award." – Rob Kall, OpEdNews
"What's our favorite documentary of all time? The one film we wish everyone could see? Hands down, this is it. It is truly one of the most important and useful films for inspiring change that has been made in a generation." – Films For Action
The Economics of Happiness on IMDB.
Synopsis:
"Going local" is a powerful strategy to help repair our fractured world—our ecosystems, our societies and our selves.
A central paradox defines our time: although the economy is growing, we are working longer and longer hours and our new comforts and luxuries have not brought us happiness.
While the ever-expanding global economy is creating immense wealth for the few, it is leaving the majority worse off. Climate change, unstable financial markets, growing inequality, senseless war, fundamentalism: people know something is fundamentally wrong. Across the world they are coming together in the spirit of resistance and renewal. A movement is growing to re-create more just and sustainable communities and re-invent economies based on a new paradigm–an economics of happiness.
The Economics of Happiness describes a world moving simultaneously in two opposing directions: while government and Big Business push for a globalized economy based on high technology and increased trade, people all over the world are working from the grassroots to nurture smaller scale, ecological, local economies.
We hear from a chorus of voices from six continents including Samdhong Rinpoche, the Prime Minister of Tibet's government in exile, Vandana Shiva, Bill McKibben, David Korten and Michael Shuman. The Economics of Happiness restores our faith in humanity, and challenges us to believe that it is possible to build a better world.
Find out more about Local Futures here.
You will receive a URL link on the day of the screening to the email address you have registered with, and as we watch together we invite you to join in the conversation online.
—
#BristolFoodKind is a campaign to create a community of acts of kindness through food during the lockdown. This community is sharing practical ideas for how you can buy food, reduce waste and grow from home, in a way that is considerate to yourself and your community at a time of crisis. By building momentum behind this campaign, together we can support and inspire one another, and encourage others to be #BristolFoodKind. We hope to emerge from this crisis with a food community even stronger than it was before.