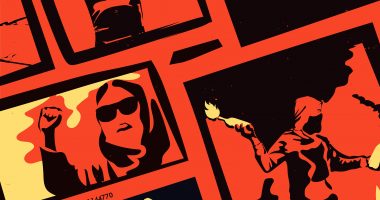 The Final Frontier
05/03/22 - 06/03/22
12:30 - 14:00
£7.70 - £19.80 (inc booking fees)
More details: https://www.trinitybristol.org.uk/activities/art-of-resistance/events/the-final-frontier
---
Art of Resistance: The Final Frontier
A two day festival of talks, workshops, art exhibitions and performances celebrating, honouring and inspiring decades of protest and creativity in Bristol. This contemporary festival focuses on how the arts are a vehicle for social change, drawing upon themes of reclaiming the body, the mind and the natural and built environment.
Resistance is never futile.
Day one: Art, Roots, Revolution
From reclaiming nature, the landscape, the body to building alternative communities, Bristol's many protest movements are linked by a common thread. They aim to bring us back to the roots of what makes us human and connected. Across today we explore the many ways in which creativity is central to protest and reconnection.
Kicking off the festivities, a performance from Rider Shafique will set the scene of art and rebellion. The day will feature a digital keynote from young environmental activist Mikaela Loach (who famously took the UK government to court in December) alongside panel discussions with art activists Tom Marshman, Rosina Al-Shateer (Black & Green Ambassador), Chris Chalkley (PRSC), Deasy Bamford (Aged Agitators) and many more. The Final Frontier sets out to explore the ways in which the arts are integral to protest movements.
Performances by Rider Shafique and Rita Lynch. 
Day two: Call This Equality?
As International Women's Day nears, Call This Equality looks at the role of creativity in the fight for women's equality.
Featuring panel discussions and performance, art activists Lucy J Turner (Rife Magazine), Katie Grant and Rhiannon White (Commonwealth Theatre) and others explore the ways in which arts pushes the frontiers towards gender equality. Artists and activists will explore challenging questions around classism and sexism and celebrate female desire, the body, asking how far if at all, women have made progress in reclaiming the body.
This day of festival activity will end with Dry Season, a performance by Kat Lyons, a spoken word theatre show that interweaves music, movement and medical texts with original poetry and animation. Tickets for this performance will be sold separately to the festival.