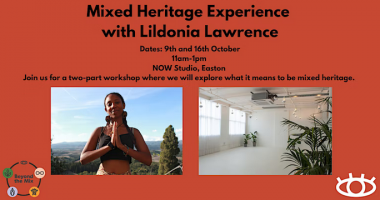 The Mixed Heritage Experience
09/10/22 - 16/10/22
11:00 - 13:00
£15
More details: https://www.eventbrite.co.uk/e/the-mixed-heritage-experience-tickets-405829606277?aff=ebdsoporgprofile
---
The Mixed Heritage Experience
Celebrating Uniqueness
Part one (Sunday 9th October) will be a deep dive into our family stories – the struggles, the successes, and the legacy we want to create!
Part two (Sunday 16th October) will focus on celebrating difference, embracing uniqueness, and creating a self-care plan that actually works!
During these sessions you will:
Explore your individual family history and heritage
Become assured about the values that matter to you most
Create a clear and empowered vision of the family traditions you want to uphold
Identify and embrace the traits and traits that make you unique
Create an authentic and sustainable self-care plan that works for you
This session is for you if:
You are a Mixed Heritage woman who wants to explore family, culture, and legacy with a group of women who 'get it'
Feel doubtful or disillusioned about elements of your history and identity
Struggle with feeling like 'the odd one out'
Want to create a self-care strategy that helps you feel confident and calm
About the facilitator:
Lildonia is a wellbeing coach specialising in wellbeing for women and BIPOC. She has a psychology and mental health background and has been working in the field since 2009. Lildonia regularly leads training on mental health, stress management, resilience, and race. Her mission is to inspire, educate and equip people with the tools for long-lasting health in body, mind, and soul.
Find out more about her work here:
ig. @lildonia.lawrence