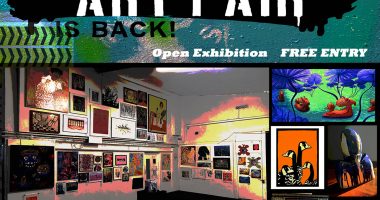 The People's Art Fair
31/03/23 - 09/04/23
12:00 - 18:00
FREE
More details: https://prsc.org.uk/event/peoples-art-fair-spring-23/
---
Hold onto your hats folks! The People's Art Fair is coming.
A huge range of local creatives are lining up to put on a unique and fabulous show for you, no matter your tastes. This Easter's Art Fair brings you the work of 60 visual artists, plus poetry and spoken word, experimental music making, comedy, AI art making and banner painting activities, as well as a maker's market.
The People's Art Fair (PAF) is a ten day long celebration of culture and expressive art providing a platform for artists, makers, photographers, painters, sculptors, poets, musicians and creatives of all shapes and flavours to show off their talents. PAF is kept free for artists to take part in, and all ticketed events offer a range of prices to suit a range of incomes.
The People's Art Fair mixes up the work of professional artists, graffiti writers, homeless people, young people, refugees, and everyone else who wants to join in. The core principle that underlies PAF is that together we are greater than the sum or our parts, and exhibitors are expected to help with the installation, promotion and management of the exhibition. All of us benefit from the inclusion of one another.