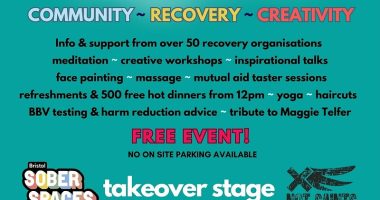 The Recovery Festival
06/07/23
12:00 - 18:00
FREE
More details: https://www.headfirstbristol.co.uk/#date=2023-07-06&event_id=90993
---
The Recovery Festival is a free, family friendly Bristol festival now celebrating its 10th year. We are the biggest recovery focused event in the South West and we looking forward to welcoming you to our second event at Trinity on 6th July.
Each year we create an atmosphere of fun, hopefulness and inclusivity, allowing us to meet as equals and be inspired by one another. We celebrate the achievements of our community and offer the opportunity to learn new skills and build support networks.
For those working in treatment and support services, we help enhance knowledge and experience of recovery, and offer the opportunity to meet people who have survived, thrived and moved on to healthier and happier lives.
This year we have an outdoor stage hosted by Not Saints and Bristol Sober Spaces curating an afternoon of bands, solo artists and DJs as well as recovery community music and drama groups.
We are featuring two record labels on our stage this year—Not Saints, who are the UK's only recovery record label, and Bristol's own Red Tangent Records, led by a team of former prisoners and engaging those with lived experience of the criminal justice system.
This years line up includes: Mishkin & The Chemical Perils ~ Ella Hayes ~ Little Tealeif ~ Ryan Kershaw (Red Tangent) ~ Phil Mac ~ DJ Relentless ~ Anonymous Dub Sound ~ Rising Voices Recovery Choir ~ Bristol Recovery Orchestra ~ Morning After Drama with Paul Danan ~ Bristol Sober Spaces Open Mic
We'll have information and stalls in the downstairs hall, and holistic healing and wellbeing treatments in the upstairs space, alongside our creative arts zone.
In the garden we'll have Speakers Corner, featuring award winning social worker and recovery coach Karen Marie Johnston, The Nelson Trust and others. We're hosting mutual aid taster sessions from both 12 step and Smart Recovery groups, and we've got free haircuts and a face painter!
This year we'll also be taking time to remember BDP's CEO and co-founder Maggie Telfer who passed away in January 2023.
Please note there is no on site public parking.
The Recovery Festival is supported by Bristol Drugs Project, Ara, DHI, In Hope, Second Step, The Care Forum, AWP, The Junction, and Bristol City Council
We hope to see you there!
Headfirst – https://hdfst.uk/E90993
Facebook – https://fb.me/e/2X6KPV7NK