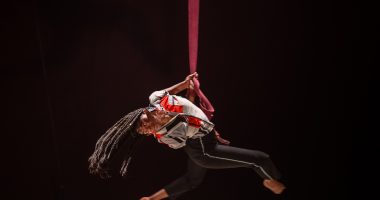 The Revel Puck Circus – The Wing Scuffle Spectacular
07/04/22 - 24/04/22
18:30 - 20:30
£15.68–£20
More details: https://revelpuckcircus.com/
---
The Wing Scuffle Spectacular is a celebration of fear. Fear is an essential part of all our lives but rarely do we celebrate what it does for us. Without it how can we learn or grow as people?
Circus is the art form most closely associated with fear yet most companies do their upmost to avoid showing it in their work. The Wing Scuffle is a joyous, absurd flirtation with that which we cannot avoid. rejoicing in both our ability to confront fear, and our ability to face it with ridicule.
The Company The Revel Pucks were born out of the desire to see circus connect with a new audience, whilst remaining embedded in the tradition of tented touring. Our aim is to make ordinary people feel extraordinary, finding the pleasure and humanity within circus and allowing our audience to be a part of that energy. Our work is fresh, bold and beautiful. We are circus, proud of what we do and who we are. our work is unashamedly skilful, and deeply imbedded in the exploration of the human condition.
We create work that celebrates the ordinary. we don't have six packs, our legs don't go on forever and our faces leave a lot to be desired.
What will you see? No animals, no ringmasters, no bad clowns. Surprisingly jaw dropping circus. Moments to fill your belly with laughter. The joy of the shared experience of live performance again! Expect some big impact circus including Cyr wheel, Juggling, partner and solo acrobatics, swinging trapeze, straps, Teeterboard, hair hanging, Tight Wire, Clowning and hoop-diving!
How long is the show? The show is 60 minuets. The gates will open at 45 mins before the show, allowing you some time to come early, grab a drink and some candy floss, and get acquainted with our shiny new Big Top.
Who is it for? The show is suitable for all ages. We'll have space to park buggies and scooters and we will have accessible seating available. All are welcome under our big top, grandparents come wiggle your hips, kids come and see what you shouldn't try at home and everyone who has been shut inside for the past 18 months, come and have some fun with us!