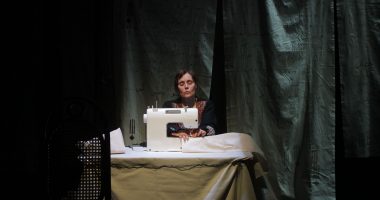 The Shroud Maker
04/12/21
19:30 -
£15/£10/£5
More details: https://bristolpff.org.uk/2021/09/11/the-shroud-maker/
---
The Bristol Palestine Film Festival proudly presents…
THE SHROUD MAKER written and directed by Ahmed Masoud, performed by Julia Tarnoky
What's the best business one can establish in Gaza? Hajja Souad, an 84 year old woman living in El Shujaia Neighbourhood, had the right idea.
She has survived decades of wars, deportation and oppression through making selling shrouds for the dead, profiting from the continuous Israeli attacks.
A compelling black comedy, The Shroud Maker delves deep into the intimate life of ordinary Palestinians to weave a highly distinctive path through Palestine's turbulent past and present. Loosely based on a real life character still living in Gaza, this one-woman comedy weaves comic fantasy and satire with true stories told first hand to the writer, and offers a vivid portrait of Palestinian life in Gaza underscored with gallows humour.