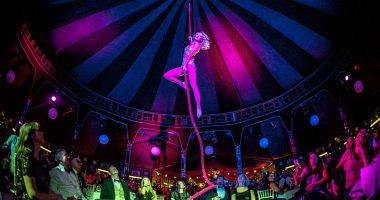 The Spiegeltent Christmas Show – 19th December
19/12/22
19:00 - 22:00
£15.00 – £18.00
More details: https://christmasspiegeltent.co.uk/product/the-spiegeltent-christmas-show-19th-december/
---
It wouldn't be Christmas at the Spiegeltent without our traditional Cabaret show and as it's our 10 year anniversary this year we've gathered a plethora of international talent to provide you with delights and wonder.
We have unicyclists crossing tight wires, aerial performers gracing the ceilings in ways you would not believe, gymnasts and acrobats performing feats of balance.
Mime artists, comedian performers, high heeled roller skaters and of course the fabulous Spiegeltent house band…ladies and gentlemen…we have it all!
Your compere for the evening will be the master of equilibristics, the gentleman juggler, Jon Udry.
We are excited to provide you with the ultimate Cabaret show of the year, book those tickets now for you and the family and be prepared to be amazed!
Artists include;
Amazing Accro Duo – Cirque Da Purr
Arialist – Renata Flores
Symoné – High-heeled roller skating Hula Hoop!
Comedy and clowning – Sam Goodburn
Fun, silly games and irreverent tunes from Bristol's very own – Kid Carpet
Illusions and confusions from the master of mime – Les Bubb
It's gonna be awesome!
Show Info:
Doors open 7.00pm
Show time – 7.30pm
Close – 10pm
Location: The Spiegeltent Bristol, Waterfront Square Bristol BS15LL
Phone: 0117 287 2484
Email: Info@christmasspiegeltent.co.uk
After the show the bar will remain open and the audience welcome to stay and soak up the festive atmosphere of the wonderful Christmas Spiegeltent.
Suitable for all ages
"Think of a feel good TV Christmas variety show, full of laughs, circus acts, a touch of surrealism and ultimately, joy! "
Steve Meadows – Director, Christmas at the Spiegeltent.
Please hit attending on our Facebook event page to be kept up to date with any event updates