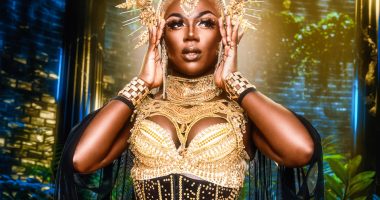 The Spiegeltent Drag Ball – 24th November
24/11/22 - 25/11/22
19:30 - 01:30
£22.00 – £75.00
More details: https://christmasspiegeltent.co.uk/product/the-spiegeltent-drag-ball-24th-november/
---
Ladies, Gentlemen and everybody in between,
Time to pop those umbrellas cause we're about to get shady!
Channel that sass, tuck firmly and get your strut on as the Drag Ball returns to Bristol with a mixture of Drag Race stars, spectacular cabaret artists and support from the local drag scene!
RuPaul's Drag Race UK alumni Ginny Lemon and Vanity Milan come together with some of Bristol's own twisted siblings of the Slaughterhaus plus fabulous circus cabaret artists for a night of fierce fashions and sickening performances to join in celebrating ten years of Christmas at the Spiegeltent.
Vanity Milan
South London's Vain Black Barbie, and star of RuPaul's Drag Race U.K Season 3.
A powerhouse performer, who not only slays the stage, but will win your hearts. As well as appearing on Drag Race Vanity has been seen on Pointless Celebrities, and her debut single Miss Milan is now streaming on all music platforms.
Vanity rose to prominence before Drag Race by winning THE CROWN, a drag talent show held in London by Drag promoters TuckShop. She has now toured the country showcasing her incredible performance skills, and huge personality.
Ginny Lemon
Hiya babs, it's Ginny Lemon! Fancy a sloooiiice? Fresh from performing at the opening ceremony of the 2022 Commonwealth Games, this far from sour star of RuPaul's Drag Race UK Season 2 will be gracing the stage in Bristol with their unique brand of British humour and campy sensibilities. (Your host for the evening):
Sneeze
God bless her, it's Sneeze!
The disco demon of Bristol and host of Slaughterhaus, Bristol's most ferocious alternative drag cabaret, she'll leave you gagged, gooped, and wondering how long before that rash clears up.
Tissues at the ready lads!
Chardonnay:
Known as the part-time supermodel and self-acclaimed Queen of Beige, it's Bristol's very own Queen of the Night!
Chardonnay is known for her breath-taking beauty, legendary lip-syncs and gorgeous, gorgeous gowns.
She's Part of the iconic family that is Slaughterhaus Bristol, and you can find her twirling across the UK's best stages!
She's so good you'll never put down the bottle!
Jessica Jungle (Performer):
Presenting Bristol's It girl, People's Princess and hardcore Girlboss, Jessica Jungle!
Producer of Slaughterhaus Bristol and Jessica Jungle presents: I'm Gonna Be A Star, this Pop icon will have you crying with laughter with her early 00's, Eurovision-worthy performances.
Come join her fan club as she launches towards international Mega-stardom!
Dee Ryder (Performer):
Introducing Bristol's premier Irish Yummy Mummy, Dee Ryder.
She's been seen on many of the stages within Bristol and across the UK.
Dee uses their drag to express their gender, sexuality and deepest emotions.
Organiser and resident performer of Slaughterhaus Bristol, they have performed on prestigious stages such as Brighton Pride and have even modelled at London Fashion Week.
Come get some bitty.
Show Info
This is a standing event
Door times;
Meet and greet – 7.30pm
Standard ticket holders – 8.30pm
Doors close – 1.30 a.m.
Booths* can be reserved for the duration of the Drag Ball at an extra cost of £75 – seats up to 8/10 adults
*does not include entry to the drag Ball, an Entry ticket must be purchased to gain entry to the Spiegeltent.
Venue: The Spiegeltent Bristol. Waterfront Square Bristol BS15LL
Directions: Located in Bristol's Harbourside District.
Phone: 0117 287 2484
Email: Info@christmasspiegeltent.co.uk
Please hit attending on our Facebook event page to be kept up to date with any event updates https://www.facebook.com/events/1145629936040887