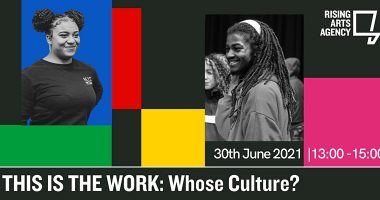 THIS IS THE WORK: Whose Culture?
30/06/21
13:00 - 15:00
FREE
More details: https://www.eventbrite.co.uk/e/this-is-the-work-whose-culture-tickets-155636919215
---
THIS IS THE WORK is a new strand of events and workshops by Rising Arts Agency which asks: What does it mean to actually do the work?
THIS IS THE WORK: Whose Culture? is the inaugural conversation in a series of events, training and workshops hosted by Rising Arts Agency, exploring what it means to 'do the work' of inclusion, anti-racism, community support and structural change.
At Rising Arts Agency we are learning through practicing. THIS IS THE WORK series will hold a space for conversation and action about the labour, resources, critical thinking and approaches we can take together to create genuine, radical change. It is a space for our community to understand more about the internal workings of our agency. It is also a space where sector gatekeepers and leaders are invited to come, get uncomfortable and feel challenged.
In June we will be launching our Whose Culture report, that documents and shares our learnings of working with and for the POC community – using this as a springboard, this event will amplify the rich, critical and generative conversations about the realities, tensions and joys of doing anti-racist work in the cultural sector.
Guest collaborators and speakers
Dilhani Wijeyesekera of Baobab Foundation – part of new community-led foundation advocating for POC equity, empowerment and long term funding solutions to end structural inequalities
Aisha Ali of Kiota – co-founder of a Bristol based POC cultural network who support and commission artists and makers
Background:
Whose Culture was a project by Rising Arts Agency that brought together young people of colour (POC) from across Bristol to connect and have meaningful conversations about creativity, culture, identity and belonging on their terms.
Rising Arts Agency is a social enterprise run by young creative thinkers in Bristol. We advocate for sector and cultural change through research projects, industry consultation and our creative agency services.
Curators and Hosts:
Euella Jackson – Engagement Producer at Rising Arts Agency and is a film-maker, lover and sex educator. Interested in ideas around climate justice, social equality and radical social change, Euella uses her platforms to explore how we can do things differently and with care embedded at the heart. Euella is also a freelance presenter, content-creator and engagement producer.
Roseanna Dias – Critical Researcher / Agitator for Rising's Resourcing Racial Justice work, having previously coordinated the Whose Culture project. She is also Exec Producer for Rising's radical leadership programme BE IT. Roseanna's work draws on co-creation, action research, and approaches which centre care, currently also working with organisations like KWMC and Gentle/Radical.
Ade Sowemimo – Rising community member and part of BE IT Transforming Leadership Programme 2020. A1 is a movement artist and multidisciplinary creative director using dance, emotional intelligence and critical analysis to explore, ask questions and celebrate the beauty of being human.
Priyanka Raval – Rising community member and part of the BE IT Transforming Leadership Programme 2021. Priyanka is a journalist, writer and activist, believing in the power of alternative media to promote positive social change. A producer and presenter of the Bristol Agenda on BCFM radio and founder of Desi's Organise Bristol.
This event is funded by Resourcing Racial Justice, a coalition of people of colour innovators, change makers, activists, artists and social leaders dedicated to social change.