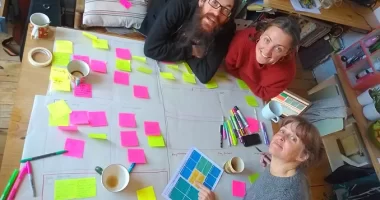 Tiny House Community Bristol – Consultation Event @ Sea Mills Methodist Church
24/09/22
14:00 - 17:00
FREE
More details: https://www.tinyhousecommunitybristol.org/seamills
---
In 2019 Tiny House Community Bristol (THCB) – a Community Benefit Society – owned by and for its members – became the preferred developer of a council-owned site covering two parcels of land, off the Crescent, in Sea Mills. We are at the early stages of planning a ground-breaking community housing development, aiming to create affordable housing solutions that are better for the planet.
We have been actively engaging and meeting with various local groups and organisations in the community about our ideas for the site.
We are now keen to share emerging design proposals and invite feedback from neighbours and the community to help inform more detailed plans.
We invite you to attend our consultation launch on Saturday 24th September at the Sea Mills Methodist Church to learn more about this exciting project.
Our architects, project managers and members will be on hand to answer questions. This is an opportunity for locals to give feedback and share ideas with us, at this early stage in the process. It's also a great opportunity to learn more about THCB in general, and find out what you need to do if you want to become a future THCB resident.