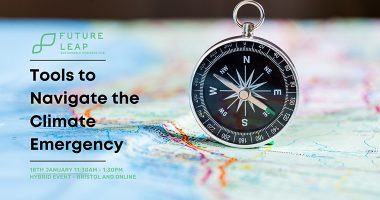 Tools to Navigate the Climate Emergency
13/01/22
11:30 - 13:30
0-25
More details: https://www.eventbrite.co.uk/e/tools-to-navigate-the-climate-emergency-tickets-211118199217
---
We are in a climate emergency, and now is the time for businesses to get on board.
What happened at COP26?
What does the latest IPCC report tell us, and how does it translate for businesses?
How can organisations better understand climate research, and make use of the business opportunities available?
How can we use language and storytelling to communicate and connect with our clients, colleagues and communities?
Join us at this hybrid lunchtime event to gain valuable tools to navigate the climate emergency.
Future Leap are excited to welcome University of Bristol, Garrett Creative and University of Exeter to speak at this event.
Future Leap offers a spacious, covid-compliant event space with MHVR air conditioning units which take out old air and bring new air in. We also have reduced our capacity so you can be mindful of each other's space. We ask all physical attendees to take a lateral flow test before arriving.
If you purchase a ticket to this event and it moves online-only due to covid-19, you will be welcome to a full refund, a partial refund and online attendance, or a ticket swap at your discretion.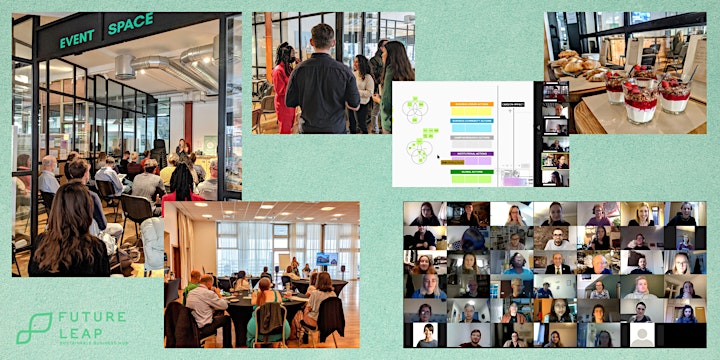 Professor Dan Lunt, Professor of Climate Science, University of Bristol
In this talk Dan will summarise the major findings of the last report of the Intergovernmental Panel on Climate Change (IPCC). This report is prepared every ~7 years to inform policymakers about the latest state of knowledge regarding key policy-relevant issues such as future climate projections, and remaining carbon budgets to reach internationally agreed targets (e.g. "Keep 1.5 alive!"). Dan will also talk about how this science feeds into the COP26 process, and give some personal reflections on COP26.
Ed Garrett, Founder, Garrett Creative
Design Matters.
Visual communication and illustration are powerful tools for storytelling. This is particularly important within the narrative around the climate emergency, where issues are often complex, misunderstood or negative.
This talk will discuss how visual communication can help make those conversations more digestible, engaging and optimistic, especially when audiences may be disheartened or unreceptive. Crucially, design and illustration has the potential to flip the script from an apocalyptic discourse to belief in a brighter future, and ultimately inspire positive action and change.
Peter Lefort, Innovation, Impact and Business, University of Exeter
Universities can be fantastic resources for businesses, from accessing the latest data to helping shape the development of new resources. While there are many examples of this working well, very often the potential is greatly underused. Sometimes the university doesn't know how to share information in the right way, sometimes businesses are unable to translate the opportunities into action. As the climate emergency escalates, however, this relationship is becoming more and more important. This talk will demonstrate examples of what climate research can mean for businesses, and share tips for how engaging with a sometimes elusive and confusing world.
Agenda
11:30 – 11:45 – Registration and Tea/Coffee [Virtual Attendees Welcome and Networking]
11:45 – 11:55 – Introduction by Future Leap
11:55 – 12:10 – Dan Lunt, University of Bristol – An IPCC Report Overview
12:10 – 12:25 – Ed Garrett, Garrett Creative – Storytelling, Language and Engaging With Climate
12:25 – 12:40 – Peter Lefort, University of Exeter – Translating Climate Research for Businesses
12:40 – 13:10 – Q&A
13:10 – 13:15 – 60 Second Pitches
13:15 – 13:20 – Close
13:20 – 13:45 – Optional Networking and Lunch [Virtual Attendees Networking till 13:30]
Meet The Speakers!
Peter Lefort, Innovation, Impact and Business, University of Exeter
Peter Lefort runs the Green Futures Network: a new initiative to increase access to the University of Exeter's leading environmental and climate research, resources and collaboration opportunities for businesses, communities and policy makers. The University of Exeter is home to the UK's five most influential climate scientists and for more than twenty years have been leading the way in interdisciplinary research to better understand and tackle environment and climate change. Peter is also co-chair of the Transition Network, an international movement of initiatives working to reimagine the world.
Ed Garrett is Founder of Garrett Creative, an independent design studio and artist collective.
As official creative partners of the Future Economy Network, Ed was the first permanent resident of the Future Leap Hub. He has 15 years of experience in the creative industries as a designer, performing artist and studio engineer for a local independent record label.
The studio partners with ethical businesses, music industry professionals and non-profits to support a range of creative activity across Brand Design, Website Design and Digital & Print Marketing. Their mission is to use design and creativity as a force for good – to help you to make a positive impact in the world.
Professor Dan Lunt, Professor of Climate Science, University of Bristol
Dan carried out his undergraduate degree in Physics at the University of Oxford, followed by a PhD in Meteorology at the University of Reading. He moved to the School of Geographical Sciences at the University of Bristol in 2003. In 2014 Dan became Professor of Climate Science.
In 2010 Dan was awarded the Philip Leverhulme Prize for his work on climate modelling. From 2007-2015 he was the founding and Chief Executive Editor of the journal Geoscientific Model Development. He currently leads the international DeepMIP program and is a Lead Author of Chapter 7 (The Earth's energy budget, climate feedbacks, and climate sensitivity) of the Intergovernmental Panel on Climate Change (IPCC) 6th Assessment Report (AR6).