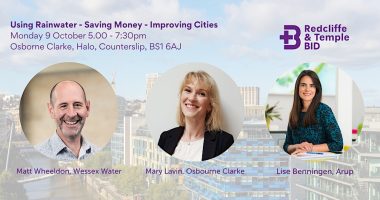 Using Rainwater – Saving Money – Improving Cities
09/10/23
17:00 - 19:30
£5
More details: https://www.eventbrite.co.uk/e/using-rainwater-saving-money-improving-cities-tickets-676555524787?
---
How can we use rainwater as a resource to save money and improve Bristol's streets and rivers?
Join us on 9 October for a chance to find out how we can use rainwater to save money and improve our city.
Hear from our panel of experts on this important topic as we consider how we can prevent pollution entering our rivers and seas and save Bristol's streets from flash flooding.
The talk and panel discussion will be followed by networking drinks and the option for a short tour of one of Bristol's most sustainable office development, Halo.
All proceeds will be donated to Water Aid, who work with partners and local communities to make clean water, decent toilets and good hygiene normal for everyone, everywhere.