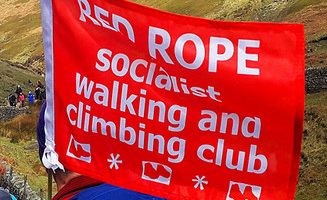 Walks with Red Rope, Socialist Walking & Climbing Group
More details: https://www.redrope.org.uk
---
Red Rope is a national socialist walking & climbing club, with regional groups, including Bristol/SW. Bristol organises walks on the second Sunday of each month. For March & April we're welcoming non-members on our walks. We walk everywhere from the edge of the city to the Mendips, Cotswolds and Brecon Beacons, and organise walking and climbing trips away to N. Wales, the Lakes & Scotland. Walks are free but membership and trip charges are scaled to income.
Bristol's March walk (on 12th) will be on the edge of the Cotswolds. It's about 8.5 miles and 400 metres ascent. If you're interested, please contact us by Tuesday 7 March, so that we can arrange shared transport. Email: bristolandsouthwest@redrope.org.uk. National website details below give general information about the club, but needs updating for Bristol!
Our April walk is yet to be finalised, but will probably be in the Forest of Dean. If you miss the March & April walks, you'll still be welcome to meet us and come on a walk to see if it's for you!