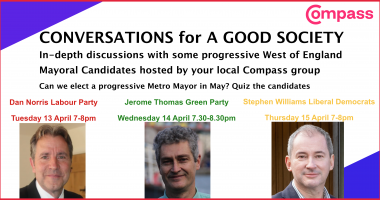 WECA Metro Mayoral Green Candidate Interview with Q&A hosted by Compass
14/04/21
19:30 - 20:30
FREE
Compass Bristol and West is hosting three online Conversations and Q&A events for the upcoming West of England Combined Authority Metro Mayor elections. We are holding one for each of the candidates from the Labour Party, Green Party, and the Liberal Democrats. The Candidates will talk first about their vision for the region. The Chair will then ask them questions on Compass priorities: Green New Deal, Progressive Alliance, Electoral Reform and Universal Basic Income – before opening questions to all attendees.
The events will take place on Zoom and you can register for all or some of the three free events here https://actionnetwork.org/forms/interviews-with-the-west-of-england-weca-metro-mayor-candidates/
This is your chance to come and ask the candidates about the issues important to you. You may already have decided on your first choice to vote for but this election may be decided by our second preference votes.
About Compass
Compass is a national group with a growing membership.
"We are founded on the belief that no single issue, organisation or political party can make a Good Society a reality by themselves so we have to work together to make it happen. Compass is a place where people come together to create the visions, alliances and actions to be the change we wish to see in the world."
Compass Bristol and West have monthly member meetings and run public events, if you would like more information, please email bristol@compassonline.org.uk. Our members come from Bristol, Bath, South Gloucestershire, Somerset and beyond. Some of us are members of political parties some of us have no political alliance.
The local Bristol and West Compass group meets monthly on zoom. Join us – we are on Facebook
We recently had a very well attended event exploring Universal Basic Income along with UBI Lab Bristol.