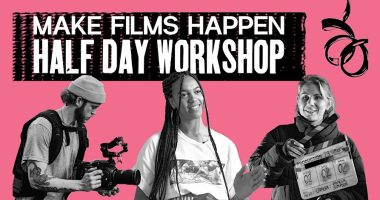 Young Filmmaker Workshops
01/07/23
11:00 - 14:00
FREE
More details: https://www.eventbrite.co.uk/e/screenology-open-day-workshops-make-films-happen-tickets-574463906007?aff=oddtdtcreator
---
Are you a young filmmaker aged 17-20 who wants to learn new skills, meet like-minded people and make your film ideas happen? If so, you don't want to miss the opportunity to join the 'Make Films Happen' workshops this summer at Screenology, Bristol's most dynamic film school.
First up – a set of 3 workshops in Saturday 1st July. We'll cover the key ingredients for any movie – the story, camera work and film design.
"Our Make Films Happen workshops are all about giving young people the chance to express themselves through film and discover their creative potential," says Tom Brereton-Downs, founder and director of Screenology. "We are excited to offer these workshops as a way of introducing them to the world of filmmaking and inspiring them to pursue their passion."
Join us on Saturday July 1st from 11am – 2pm. For this series of 45 min hands-on workshops to inspire and entertain and get into filmmaking.