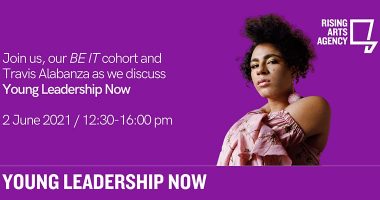 YOUNG LEADERSHIP NOW
02/06/21
12:30 - 16:00
FREE
More details: https://www.eventbrite.co.uk/e/young-leadership-now-tickets-154707960675
---
Come join Rising Arts Agency on Wed 2nd June 2021 and get to know more about why we believe YOUNG LEADERS are here now and why they NEED TO BE PLATFORMED!
At Rising Arts Agency we've spent the last year trying to understand the relationship between creativity, leadership and social activism. Needless to say 2020 was a HUGE YEAR for us and our community of young creatives. WhoseFuture#1, our new Co-Directors were chosen and BE IT (our transformative leadership programme) launched. Something else happened last year but we cant remember ?
Over the afternoon we'll be hearing from young leaders from BE IT, from Bristol and beyond (yes, Travis Alabanza is going to be there and we can't wait). Together we'll be unpacking what 'leadership' even is and what it could and should be…
This event is for our community and people who want to find out more about WHAT WE DO and HOW WE DO IT over at Rising.
All welcome, but prepare to be challenged ❤︎
Co-hosted by BE IT Programme Co-producers Roseanna Dias and Will Taylor.
Schedule
12:30 Welcome and Poetry from Malizah
Malizah shares her new Creative Sector A-Z Illustrated Poetry Collection made through the programme
13:00 – 14:00 Lane 8* with Travis Alabanza
14:00 – 14:15 Break
14:15 – 15:00 Conversation + Q&A: What Leadership Means To Me…
Young leaders from BE IT Cohort 1: Courtenay Welcome, Amber-Ruth Watson, Kiara Corales, Ella Trudgeon share their journey, work and learnings
15:00 – 15:15 Break
15:15 – 16:00 Mini Think Tank: Leadership Now
An interactive session with young leaders from BE IT Cohort 2
*This series is called 'Lane 8' as a metaphor for being on the outside lane in athletics. When you're on the outside lane you can't measure your speed by your competitors, it all comes down to believing you are ready to perform at your best and that you deserve to be in the race. But please don't be put off by the sports metaphor if that's not your thing.
Rising Arts Agency is a social enterprise run by young creative thinkers aged 16-30 in Bristol. We advocate for sector and cultural change through research projects, industry consultation and our creative agency services.