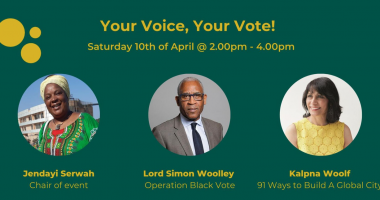 Your Voice, Your Vote!
10/04/21
14:00 - 16:00
FREE
More details: https://www.facebook.com/events/270310928088070/
---
The participation of racialised groups in elections is vital as these groups face multiple disadvantages. In the UK, however, racialised people are significantly under-registered to vote.
For example, one in four Black and Asian people are not registered to vote (Electoral Commission, 2019), compared to a 17 per cent average across the population. Dr Maria Sobolewska and Professor Anthony Heath argue that the main reasons for this democratic deficit are lack of knowledge of eligibility and socio-economic marginality. Are all those who mean to vote registered and the rest chose to opt-out of British politics? Or are they excluded from the process?
In light of the upcoming local elections, join the Black South West Network (BSWN) Team for an exciting conversation around civic participation and how to register to vote to have your voice heard. We will hear from our keynote speaker, Lord Simon Woolley of Operation Black Vote, and join in conversation with Chair Jendayi Serwah and panellists including:
– Chaz Singh, Councillor and Activist
– Dr Adeela Shafi, The Bristol Muslim Strategic Leaders Group
– Zaheer Shabir, Chair of Building the Bridge
– Paul Jabani Lassa, Creative Power Town
– Samira Musse, Co-founder of Barton Hill Activity Club
You will also get a chance to find out about registering to vote and how to access useful resources ahead of the elections from the inspirational Kalpna Woolf, Founder of 91 Ways To Build A Global City and CEO of BeOnboard. This event held in partnership with the Bristol Commission on Race Equality (CORE), Afrikan ConneXions Consortium, The Bristol Muslim Strategic Leaders Group, and the BSWN Super Six group.