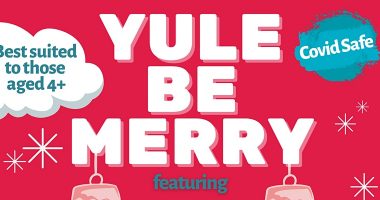 Yule Be Merry – Family Christmas Event with Brave Bold Drama
20/12/21 - 23/12/21
15:30 -
£7.50 per person (adult & child) - flat rate
More details: https://www.eventbrite.co.uk/e/yule-be-merry-christmas-show-and-trail-tickets-208648773097
---
Following the massive success of 'The Spooky Spooktacular' Halloween event, the Bean Tree Cafe & award-winning Bristol based theatre company Brave Bold Drama are back this December for a hearty dollop off festive fun.
Part theatre, part festive treasure trail, join us for some hearty, quirky Christmas fun, suitable for all the family (best suited to those aged 4+).
Yule Be Merry!
(Theatre show devised and performed by Brave Bold Drama)
Join hapless Christmas event planners Holly & Noel from 'Yule Be Merry: carefully curated Christmas creations' as they attempt to assemble a 12 Days of Christmas themed event to a tight deadline for a demanding boss.
In the face of insurmountable tech glitches, escaped poultry and unavoidably delayed ballet dancers, Noel and Holly are determined to press on regardless.
After all, they do have the pear tree…
Christmas Treasure Trail
Follow the carefully curated Christmas trail, using your sharp eyes and big imaginations to decipher clues in order to obtain a secret sweet treat! Treat for both adults & children.
Monday 20th – Thursday 23rd December
3.30pm, 4.15pm, 5pm & 5.45 slots on all days.
Duration: 1 Hour
Tickets are £7.50 per person, plus booking fee (flat rate for adults & children)
Children must be accompanied by an adult at all times. Children under 2 years old are free and do not need a ticket.
Booking in advance only via Eventbrite: https://www.eventbrite.co.uk/e/yule-be-merry-christmas-show-and-trail-tickets-208648773097
Event Presented in the Bean Tree Café & Sensory Garden of Page Park, Staple Hill (BS16 5LB).