Police and Crime bill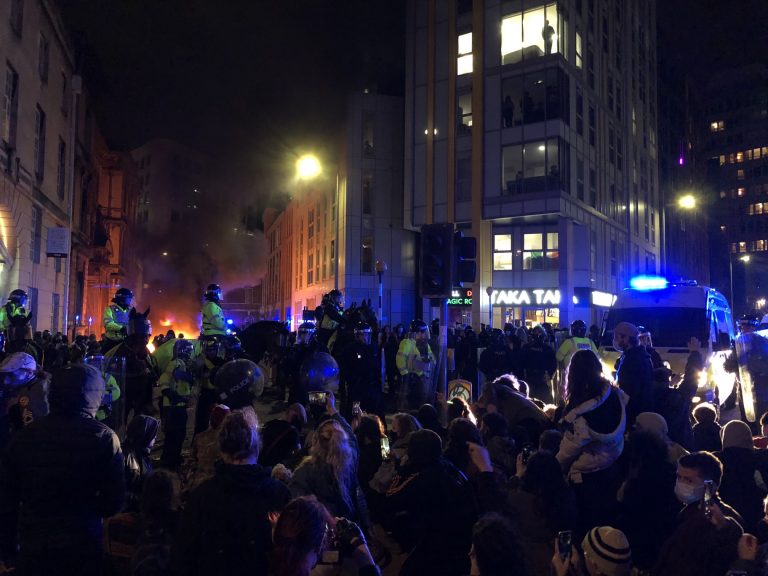 Tenth person jailed for involvement in Bristol Kill the Bill protest
Ryan Dwyer was arrested on warrant in Belfast last month in relation to his involvement in the Kill the Bill protest on 21 March.
'That's not the way to legislate': Lords slam the Police and Crime Bill for being too big, wide-ranging and draconian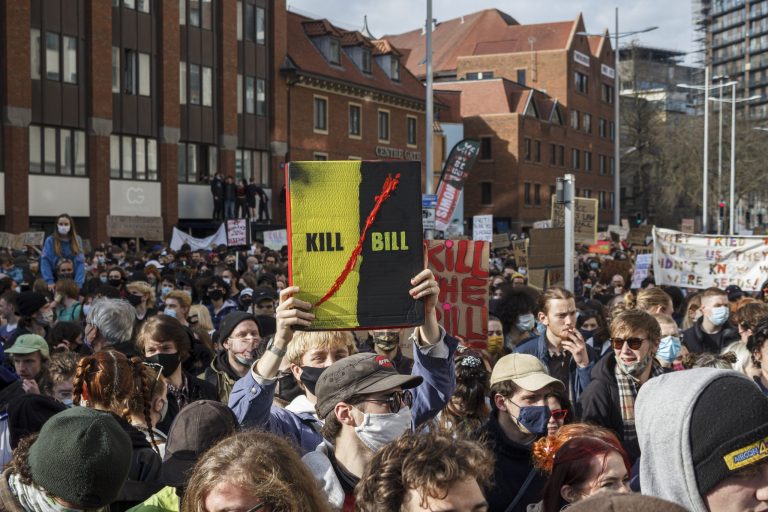 Riot charges handed to Bristol Kill the Bill protesters are rare in recent history of unrest in Britain
Protesters face up to 10 years in prison after being charged with the most serious of public order offences. Lawyers comment on what this means and how recent riots and protests have been dealt with by the criminal justice system.
Pandemic evictions and the Police and Crime Bill leave travelling communities fearful of what comes next
As large-scale evictions of roadside camps and squats ramp up, and legislation criminalising trespass moves closer to becoming law, we talk to people in the firing line.
Police used 'excessive force' during Bristol Kill the Bill protests, as parliamentary inquiry finds 'significant failings'
A new report into policing of Bristol's Kill the Bill protests and the Clapham vigil for Sarah Everard has found that police used excessive force and failed to distinguish between violent and peaceful protesters.
Retired riot cop breaks rank to say Police and Crime Bill must be stopped
In this exclusive interview, a retired Avon and Somerset police officer says the Police, Crime, Sentencing and Courts Bill is a democratic risk and could lead to more violence.
'I was pretty scared so I was just in a ball': Protesters speak out about police violence
We talk to protesters who say they were brutally attacked by police at the recent protests against the Police and Crime Bill.
What is the Police and Crime Bill, why does it matter, and why are people so angry?
The wave of dissent ongoing in Bristol looks set to continue across the UK as the Home Office's Police and Crime Bill progresses. What's at stake in the proposed legislation, how will it impact individuals and communities, and what alternatives do its opponents propose?
Bristol's fourth Police and Crime Bill protest remains peaceful after hands-off policing
After last week's protests against the Police and Crime Bill saw heavy-handed policing and clashes with protesters, the city's fourth demo last night went ahead peacefully with no intervention from the police.
Debunked: Expired MOT does not prove police vehicle fires were 'staged'
Ever since a police van and car were set alight during disturbances in Bristol, false claims have circulated on social media that the vehicles' expired MOTs prove that the events were 'staged'.
Police and Mayor 'decided collectively' to clear sit-down protest on College Green
In a candid radio interview with the Bristol Police Area Commander this morning, it was disclosed that police decided collectively with the Mayor to clear...
How Bristol politicians and election candidates have responded to Friday's Police and Crime Bill protest
Statements by the parties and candidates on protests and policing in the lead up to May's local elections.
Watch: Police forcefully break up Police and Crime Bill sit-down protest followed by major clashes
Around 1,000 defied Covid-19 restrictions to attend the third protest against the Police and Crime Bill in the space of a week.
Police violently shut down peaceful sit down occupation of College Green
The protest was peaceful before police arrived, with participants sitting down listening to speeches and singing.
Bristol and the Police and Crime bill; A day and night of protest and unrest
As videos gripped the world from the clashes on Sunday night, a report on the day's events and how thousands protested against the Police and Crime Bill.
Watch: How the Police and Crime Bill riot in Bristol unfolded
Bristol is reeling after some of the most serious clashes between protestors and police seen in Britain for years.