Avon and Somerset Police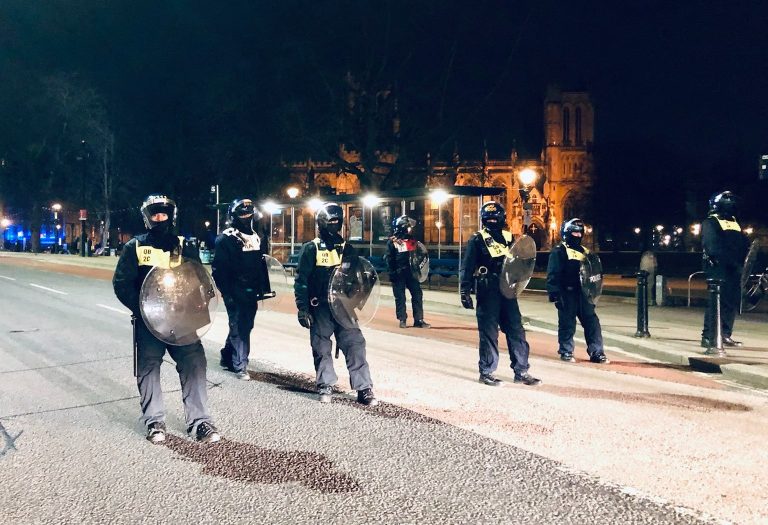 Retired riot cop breaks rank to say Police and Crime Bill must be stopped
In this exclusive interview, a retired Avon and Somerset police officer says the Police, Crime, Sentencing and Courts Bill is a democratic risk and could lead to more violence.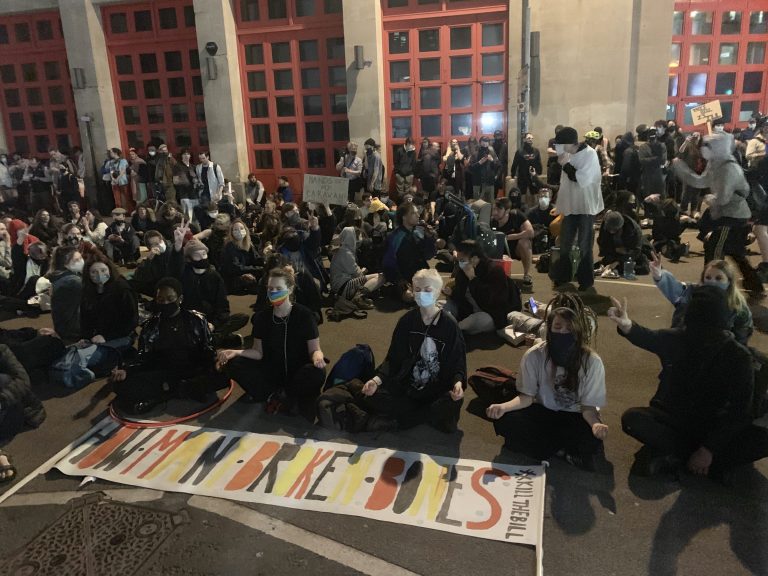 Bristol's fourth Police and Crime Bill protest remains peaceful after hands-off policing
After last week's protests against the Police and Crime Bill saw heavy-handed policing and clashes with protesters, the city's fourth demo last night went ahead peacefully with no intervention from the police.
Watch: Police forcefully break up Police and Crime Bill sit-down protest followed by major clashes
Around 1,000 defied Covid-19 restrictions to attend the third protest against the Police and Crime Bill in the space of a week.
Police violently shut down peaceful sit down occupation of College Green
The protest was peaceful before police arrived, with participants sitting down listening to speeches and singing.
Bristol and the Police and Crime bill; A day and night of protest and unrest
As videos gripped the world from the clashes on Sunday night, a report on the day's events and how thousands protested against the Police and Crime Bill.
Watch: How the Police and Crime Bill riot in Bristol unfolded
Bristol is reeling after some of the most serious clashes between protestors and police seen in Britain for years.
The Avonmouth explosion was horrific. But it wasn't unprecedented.
The business of recycling sewage into fertiliser, and the wider wastewater treatment industry, have been chequered by explosions and industrial accidents
Community responses to latest wave of violent crime on Bristol to Bath cycle path
Local residents are getting organised to respond to protect the popular cycle route, as data obtained by the Cable shows violent incidents and thefts on the rise.
Caught on camera: suspected surveillance of man who complained of police corruption
Exclusively obtained police report and CCTV suggests Special Branch may have played a part in the surveillance of a former police informant.
Black and ethnic minority people more likely to face cannabis prosecution in Bristol, data shows
'No excuse' for ethnic disparities say police, as overall prosecutions for Class B drug rise despite local diversion programme
Police intelligence links disappearance of Linda Millard to gangland murders
It is of one of Avon and Somerset's longest unsolved missing persons cases. But a police intelligence report links the mother's disappearance to a notorious gangland slaying.
A police informant says he was let down, now his life is in danger
Avon and Somerset Police persuaded 'John' to provide information about criminals he'd grown up with. One officer's bending of police guidelines has left him living in fear.
Ex-undercover cop secretly ran business with man connected to gangsters
The ex-undercover cop hid the fact he was running a second-hand car dealership with a man who had "very dangerous" known associates in organised crime. He denied the allegations against him and claimed senior members of Avon and Somerset Police tried to discredit him.
Local policing has been slashed and violent crime is up. Who will claim the mantle of 'law and order'?
Avon and Somerset Police has had 19% of its police officers cut since the Conservatives came to power in 2010
Avon and Somerset police to be sued over botched art heist investigation
The main suspect in Britain's longest running murder investigation is seeking damages following his acquittal over the stolen art collection of cider baron and former Tory MP Esmond Bulmer.
Part three: A Somerset cider baron's stolen art collection, heroin from Pakistan, two collapsed cases and a rinsed taxpayer
The tale of how stolen art belonging to a cider baron and former MP was recovered by a man acquitted of the murder of Daniel Morgan.
Part two: The troubled cop bent on solving the UK's longest running murder case, and a key player in the phone hacking scandal
An art heist in Somerset, the UK's longest running murder case, and the phone hacking scandal - three sensational stories weave into one.
Part one: The axe murder suspect, Somerset Tory cider baron and botched art heist police probe
Dark Arts is a tale of private investigators, corruption, political pressure, Pakistani heroin and a mansion in the Somerset hills.
Why the Cable is backing I Am Judah
Behind the shaky video that caught national attention is an important wider story. The Cable is proud to get behind a film seeking to tell it.