Black Lives Matter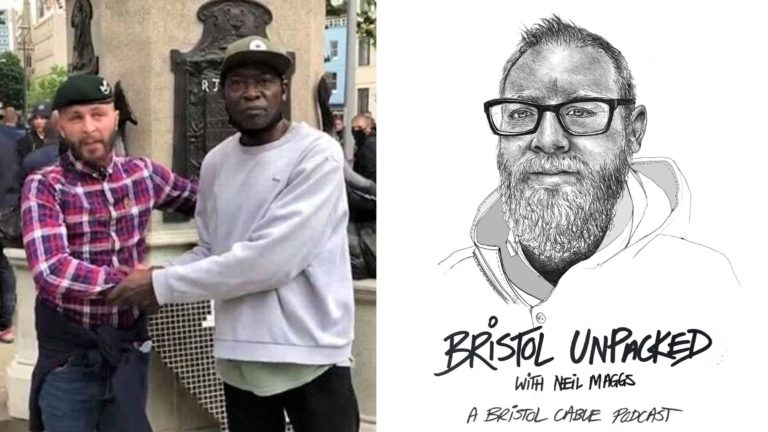 Listen: Bristol Unpacked with Neil Maggs
Listen: Bristol Unpacked with Delroy Hibbert
Delroy Hibbert is a Black Lives Matter backer. But he also attended the 'All Lives Matter' demonstration in Bristol the week after Colston fell.
Watch: Black Lives Matter protest in Bristol
Cable journalist Priyanka Raval spoke to people at Sunday's BlackLivesMatter protest about what the toppling of the Edward Colston's statue means, and where Bristol goes from here.
Editorial: After Colston, now to tear down structures of racism, including in the media
A statement from the Cable on the felling of Colston, Black Lives Matter and working towards anti-racism.
Colston statue toppled during Bristol's Black Lives Matter protest
The statue of slave trader Edward Colston in Bristol city centre - often the centre of debates about marking Bristol's dark history - was today torn down.
Why what happened in Minneapolis matters in Bristol
As George Floyd's murder shocks the world and Bristol gears up for Black Lives Matter protests this Sunday, how can the city effectively confront its own dark history and inequalities?
Bristol Dry Gin: 'You can always issue an apology in the local paper…'
Micro distillery Bristol Dry Gin have had a huge backlash for using George Floyd's death and the Black Lives Matter protests to market their new gin. We talk to a pub landlord about why they won't be stocking their products.
Black Lives Matter Bristol: behind the scenes
Around 1,000 people marched through Bristol in support of the Black Lives Matter movement on Sunday. Edson Burton, one of the organisers of the march,...