protest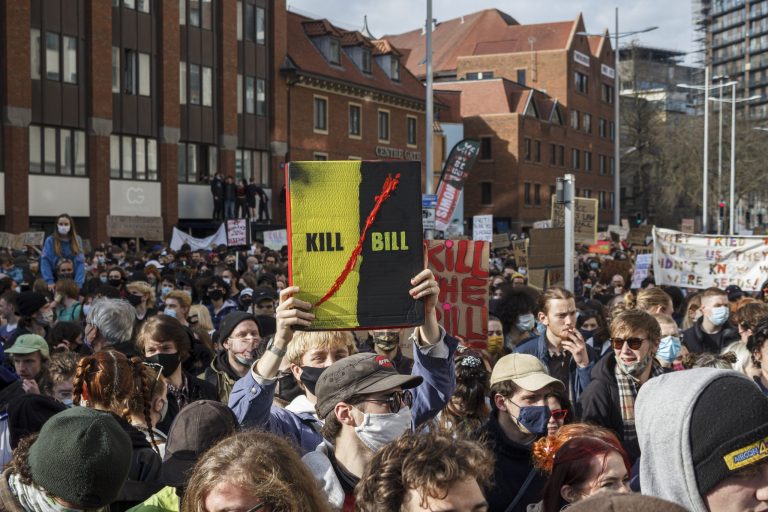 Riot charges handed to Bristol Kill the Bill protesters are rare in recent history of unrest in Britain
Protesters face up to 10 years in prison after being charged with the most serious of public order offences. Lawyers comment on what this means and how recent riots and protests have been dealt with by the criminal justice system.
'Morally right but legally guilty': Meet the GP turned environmental activist self-representing in court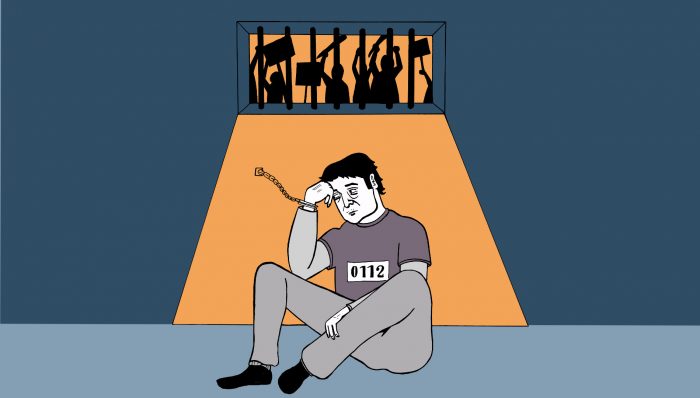 Unlocking the cells: Bristol's history of prison reform
From rioting in 19th century to fighting for prisoner rights in the 1970s, Bristol has a long history of attempted prison reform.
Photos: thousands march against austerity
Bristolians marched against austerity last Saturday in a powerful display of opposition to government.
Bringing the fight against apartheid to Bristol
Remembering Ron Press, the white South African dissident who became a leading light in Bristol activism.
Video: What impact for anti-austerity protest?
At the national demonstration organised by the People's Assembly in London on Saturday 1st of July, the anti-austerity movement showed a resurgence.
Feminist library protestors "violently" evicted
Domestic violence campaigners have been "violently" evicted from Cheltenham Road Library.
Feminist library occupiers defiant after police visit
Domestic violence campaigners occupying the now-closed Cheltenham Road Library, are determined to stay put after a visit from the police and other unidentified individuals - one of whom made threats.
"We invite you to join us": Activists occupy Cheltenham Road library
Domestic violence campaigners have occupied the historic Cheltenham Road Library to protest a lack of social housing.
Nazis behind Saturday's far-right rally
Some neo-Nazis are expected to be in Bristol city centre this Saturday. Anti-fascist groups have called a counter-demonstration.
Breaking: Multinational bank backs down to local campaigners
Santander has been forced to back track on a controversial policy.
Hundreds meet to stand up to racism
"We need to organise so we are the biggest voice."
Hip Hop Hijabis: "Muslim chick with an itch to spit skits"
Bristolian Muslim rappers Sukina Douglas and Tanya Muneera Williams are "proud to be from a place of resistance."
Famous slave trader celebrated in Bristol again
Protests against Edward Colston celebrations continued yesterday as official birthday event marked the end of a fortnight of celebrations and fundraising.
I chose the way that speaks truth
An exiled Sudanese journalist tells her story of political repression, exile and integration
Black Lives Matter is an emergent force in the UK
The movement from the US is challenging today's racism is all its forms, and can be just as relevant on this side of the Atlantic
From cockfighting arena to protected green space
A history of a small hill in St Werburgh's
A long overdue victory
A story of one Bristolian's struggle against the giants of the construction industry
Black Lives Matter Bristol: behind the scenes
Around 1,000 people marched through Bristol in support of the Black Lives Matter movement on Sunday. Edson Burton, one of the organisers of the march,...
Bristol's Chilcot campaigners have work to do
Thirteen years ago more than a million activists gathered in central London to resist the invasion of Iraq, yet despite the sheer volume of the outcry, it fell upon deaf ears. Now, after more than a decade, we have the Chilcot Inquiry report on the war.