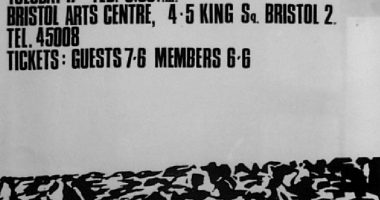 BEEF Do Breakwell
09/10/21 - 10/10/21
All day
FREE
More details: https://arnolfini.org.uk/whatson/beef-do-breakwell/
---
Bristol artist film collective BEEF respond to the work of Ian Breakwell. Part of Arnolfini at 60.
As a key figure in the early artist film scene in Britain, Ian Breakwell's influence on later generations of creatives is strong, but it is often overlooked or under-recognised. In this series of events, specially arranged to accompany the exhibition Arnolfini at 60 – Ian Breakwell, we have invited artist collective BEEF (Bristol Experimental Expanded Film) to explore this legacy and respond to it creatively.
In this event, they will focus on Breakwell's performative film practice, and his links with both Arnolfini as well as the Bristol Arts Centre (the ancestor of today's Cube Microplex) to 'play' the cinemas and projection facilities in each institution.
'When I think about the events Ian Breakwell organised in Bristol, the sort of scene which he operated in, I find myself reminded of BEEF. That same sense of really vital commitment to experimentation and alternative artist networks which maybe don't fit in with received ideas about who is 'leading the way'… I knew I wanted to work with them around this anniversary show, and I'm delighted with how they've taken up the offer'.
Phil Owen, Arnolfini Events Producer and Archivist
Saturday 9 October:
2pm to 5pm: open rehearsal/installation at Arnolfini.
7.30pm onwards: live performance/screening event at Arnolfini.
Sunday 10 October:
Event at Cube Microplex, further details to follow, followed by history walk to UNWORD film installation at Arnolfini.