Latest stories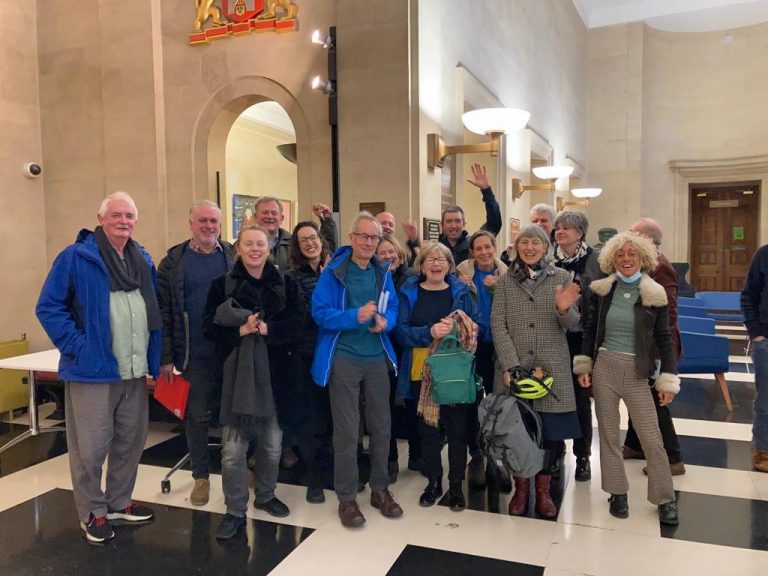 Windmill pub saved after councillors reject plans to build flats
The campaign to save the pub in Windmill Hill dates back to when it closed in March last year before the pandemic hit.
'Absolutely hopeless': Bristol's young renters on the crazy demand for rooms in the city
Families on the frontline of Bristol's rental crisis
Renting privately when you have dependents adds another layer of complexity to a broken system.
Why we're dedicating time to investigate the renting crisis in Bristol
We've been collecting the experiences of readers to investigate how Bristol's rental market has gotten even tougher since the pandemic.
A year after opening, some residents fear for their safety at controversial south Bristol flats
Imperial Apartments, a converted Hengrove office block where many flats do not meet space standards, was opened in 2020 to private renters and people facing homelessness. There are serious concerns about conditions there – but with Bristol's bleak rental market cutting off housing options, some s...
Listen: Bristol Unpacked on a £23 million gap in the council's budget, with Craig Cheney the councillor holding the city's purse strings
After 12 years of central government imposed austerity, that purse is much smaller than it needs to be.
Bristol midwife: 'The system is broken and is breaking us with it'
Staff shortages, increased pressure and mental health issues are threatening to cause a mass exodus from midwifery. A Bristol midwife explains why she and her colleagues are taking to the streets this weekend to call for urgent action.
How stop and search will be entrenched by the Police and Crime Bill
Chair of the Avon and Somerset Lammy Group Desmond Brown says new stop and search powers included in the Police and Crime Bill will entrench a lack of trust in the police.
Fascinating and challenging conversations from characters on big topics facing the city and beyond.
Listen: Bristol Unpacked on acting in new drama Outlaws and living with real bank robbers, Longwell Record's Ian Aitchison
What was it like acting with Christopher Walken when his previous biggest role was playing a genital wart 20 years ago? Southmead-born Ian Aitchison runs...
Former mayor George Ferguson, on his highs, lows, beef with Marvin and being 'radical' as a former Merchant Venturer
The red-trouser wearing self-described "establishment rebel" and first and former Bristol mayor George Ferguson joins the podcast this week.
Youth worker Darren Alexander on if Drill music is driving knife crime
In the wake of the tragic death of 18-year-old Dontae Davis in Lawrence Hill, what's behind youth violence? And as Avon and Somerset Police have said recently, is drill music a concern?
Uncovering injustice and wrongdoing
Revealed: Untreated sewage is being dumped into our rivers thousands of times a year. Who's to blame and can it be stopped?
The surge in popularity of wild swimming during the pandemic has highlighted the extent to which our outdated sewage system dumps waste into rivers – including the Avon. The Cable asks why, and speaks to local campaigners pushing for change.
'Covid meant I didn't have a job any more': dozens of Bristolians face eviction after pandemic ban lifts
Hundreds of people across the country have lost their homes in hearings lasting just 10 minutes, an investigation has found. In most cases, judges couldn't take Covid-related hardship into account.
Riot charges handed to Bristol Kill the Bill protesters are rare in recent history of unrest in Britain
Protesters face up to 10 years in prison after being charged with the most serious of public order offences. Lawyers comment on what this means and how recent riots and protests have been dealt with by the criminal justice system.
Adblock Bristol demands a ban on fossil fuel advertising
Campaigners are determined that Bristol follows in the footsteps of other councils by ridding the streets of high carbon advertising.
Watch: How will flooding affect Bristol?
The council is already drafting strategies to protect us from flooding caused by climate change – and we've taken a look at them.
Escape from Hong Kong to Bristol: 3 protestors speak out on police brutality and life in exile
They are keeping the spirit of the pro-democracy protest movement alive - and wondering whether they'll ever go home. Content warning: this video contains some violent scenes.
Join 2,700+ Cable members redefining local media
Your support will help the Cable grow, deepening our connections in the city and investigating the issues that matter most in our communities.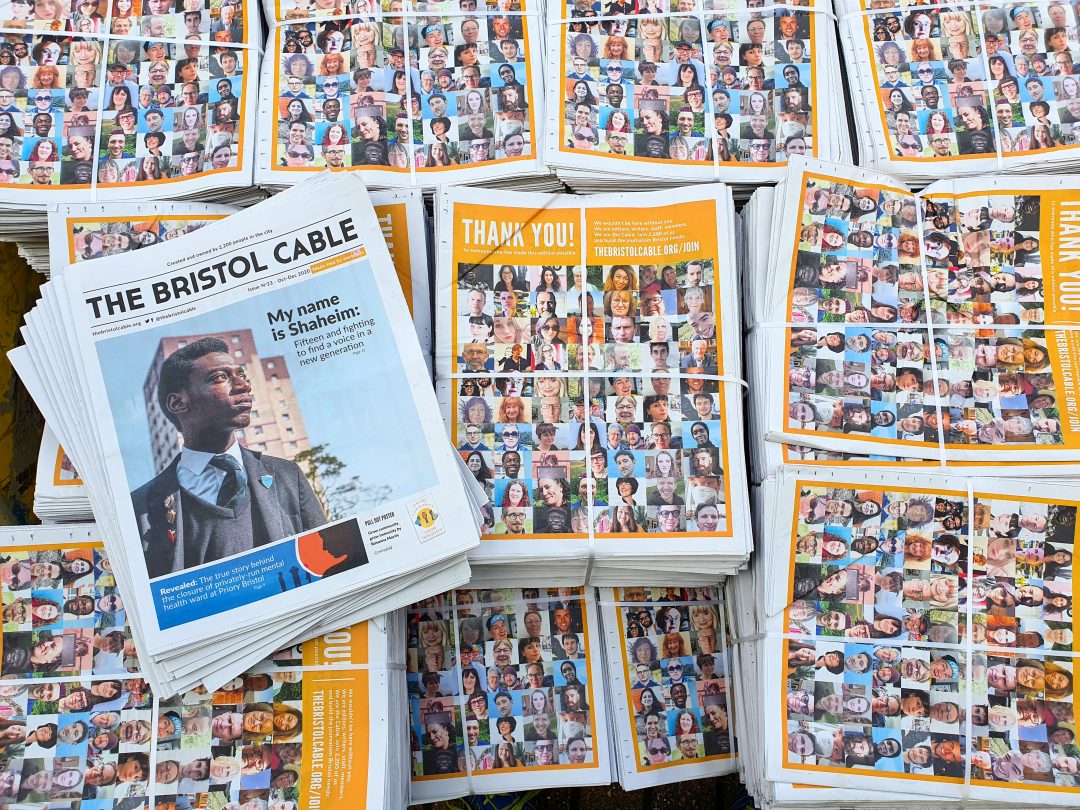 Could a camera developed in Bristol that can 'see' methane leaks offer a path to curbing industrial greenhouse gas emissions?
UN scientists argue that cutting methane offers the fastest, most effective way to reduce the rate of global temperature rises.
PHOTOESSAY: Protestors demand action on climate crisis
With negotiations ongoing at the COP26 climate summit, Bristolians took to the streets on Saturday to march for a greener future.
Andreas Malm: 'Why climate activists should engage in acts of sabotage'
Environmental protesters need to rethink their tactics, argues a Swedish scholar of human ecology who came to Bristol this week.
The Bristol Cable is not just a publisher, it's a community of 2,700+ people
Culture or news? Vote to shape our editorial priorities
We want to expand our reporting, and we need your help to decide how to do it. We believe journalism should make a difference. Whether...
The Cable is fighting back against tech giants and corporate publishers. But now we need you.
We're facing a very uncertain future, and need your support to keep going
Tell us your experiences of struggling to rent in Bristol
After publishing an investigation into evictions since the government ban introduced during the pandemic was lifted, we want to hear about the experiences of people in Bristol struggling to find somewhere to rent.
The latest on how the pandemic is affecting our city
Long Covid and the frontline of mass unemployment
Over a million people are still unwell months after catching Covid-19. With sick pay quickly running out, thousands could lose their jobs and face financial ruin.
How Bristol is responding to surging demand for mental health support linked to Covid-19
The rise in referrals was lower in Bristol than the national average. The Cable speaks to NHS and voluntary mental health services about how they are coping during the pandemic and what is on the horizon.
How can schools address the long-term impacts of Covid-19 this academic year?
As kids go back to school this week, schools are considering how to repair the damage of the last 18 months.
Bristol History Podcast is dedicated to exploring various aspects of Bristol's history, hosted by Tom Brothwell. Produced in partnership with the Bristol Cable since April 2018.
LISTEN: Telling the stories from Bristol LGBTQ people going back 300 years
Andrew Foyle from Outstories Bristol, a volunteer community history group, discusses the stories of LGBTQ people throughout Bristol's history from the 17th century to the present day.
Listen: How local industry profited from the slave trade
The hidden history of how the family wealth of Edward Protheroe, famous coal industrialist in the Forest of Dean, was built on the slave trade and labour of enslaved people on sugar plantations.
Listen: Healthcare in Bristol before the NHS
This week I met with Dr Michael Whitfield to discuss Bristol's dispensaries. For the two hundred years or so before the creation of the NHS in 1948, the dispensaries were one of the main providers of healthcare in Britain, especially for its poorest people. We discussed how the dispensaries opera...