"Beautiful, ordinary people": Capturing Brexit on film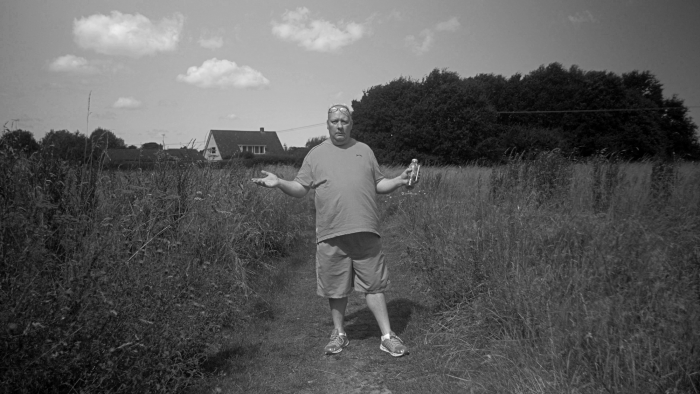 Ahead of Bristol Radical Film Festival, the Cable spoke to director Timothy George Kelly about his 'state of the nation' documentary, Brexitannia.
Kicking off Bristol Radical Film Festival tomorrow night is director Timothy George Kelly's documentary Brexitannia – an unflinching portrait of post-referendum Britain, featuring interviews with nearly 50 "beautiful, ordinary people, full of contradictions".
To produce the first feature-length documentary on Brexit, Kelly didn't waste any time in trying to capture the 'state of the nation' – and its minefield of racism, identity politics, patriotism and neo-liberalism – in the referendum's immediate aftermath.
Within five days of the vote – when most people's heads were still spinning – Kelly was in Clacton-by-Sea beginning the six-month process of capturing the thoughts and feelings of Britons from across the political spectrum, across the country, and from all walks of life.
Being an Australian gave Kelly more freedom to traverse class lines, he says, and may be part of the reason his film is the first to tackle Brexit in cinema: "It's more sensitive for Britons or Europeans to get their heads around".
The resulting film depicts a nation in the grip of malaise and uncertainty, with the subjects defying simple classifications. "Thinking in binaries is reductive and it doesn't work. It's not left or right, leave or remain," says Kelly.
Initially aiming to follow an anthropological approach that would see the film follow the demographics of the population in terms of representation, Kelly says that balance was lost in the editing process, but that the aim was always to capture a "reasonable and truthful representation".
"[The subjects are] framed in very articulated, composed portraits," explains Kelly. "It gives a huge amount of space, and the distance gives a lot of honesty to it… There's an awful lot of poetry in how ordinary people speak."
Kelly chose to shoot in black and white because he was "playing with the idea of referendums – they're a binary", he says. It also gives a historic feel to the film, which he says contrasted with the way that many of the interviewees didn't seem to realise quite how historic the events were.
"I think people don't realise that we are agents of change in history rather than just sitting by. We've been citizens – or subjects – of this deep centrist politics for the last two decades and I think that results in us feeling quite powerless."
In order to end with "some kind of hope", Kelly's final section looks at the role of wider economic forces in austerity Britain and the referendum, which he says he was surprised was not brought up by subjects. "It positions the trajectory of the film in some forward fashion, if it ended without that it would be a more depressing film," he says.
Brexitannia will be showing at the Trinity Centre on Friday night, followed by a Q&A session with Timothy George Kelly.
Bristol Radical Film Festival 2017 is running all weekend (13 – 15 October) with a selection of progressive and innovative titles, panel debates and film maker discussions. See the full programme here.