Blind people facing 'ongoing' discrimination by taxi services, local organisations say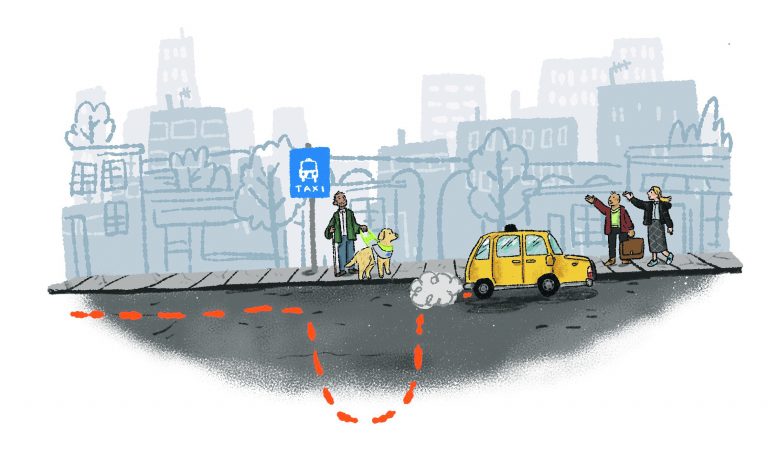 Alan Dyte, 84, has a guide dog, Jeeves, to help him get around as he is blind. He regularly takes taxis to get where he needs to go because it's easier and less stressful than public transport, but like many blind and partially sighted people, struggles to get taxis to take his dog.
In July 2021, a V Cars driver allegedly refused to let Jeeves in the back of the car, insisting he went in the boot.
"My dog jumped out and ran away when the boot was being closed," Dyte said, adding that the driver refused to help get Jeeves "because dogs are dirty".
Dyte took the V Cars driver to court, aided by the city council's licensing team, last December. He won a tribunal, which involves claimants and defendants putting cases forward. But he subsequently lost the case in the magistrates' court, where both parties have legal assistance – in part, he believes, because he was poorly represented and supported.
Taking the driver to court had been an emotionally draining process and Dyte decided not to appeal to the crown court. His mobility issues mean he has to keep using taxis, but he told the Cable he regularly changes companies to mitigate bad experiences – and drivers still refuse to take him.
"There's no point in complaining, because it's just that one driver, you can't prove it, and when you take it to court like I did, they treat you like an imbecile," he said.
V Cars did not respond to a request for comment.
Positive law changes – but not enough enforcement
The Equality Act 2010 requires taxis to carry guide dogs, without charging extra and since July 2022 new legislation prevents drivers from refusing bookings from any disabled person because of their impairment, including blind and partially sighted people.
But concerns remain about how well the laws are being enforced, with gaps between numbers of reported incidents and prosecutions.
Bristol Sight Loss Council, part of a network of organisations that advocate for the needs of blind and partially sighted people, told the Cable it has been working with Bristol City Council for two years on this issue but has seen little progress.
The council's licensing department is responsible for enforcing breaches of local policy. Drivers are only exempt from carrying dogs if they prove they are allergic to them.
But Alun Davies, Bristol Sight Loss Council's engagement manager, told the Cable there's a "long and ongoing issue of taxi drivers refusing to accept blind people and their guide dogs."
He said the Sight Loss Council regularly hears of guide dog refusals, but that often victims don't report it. Davies believes this is because of the difficulty proving reports and the low rate of prosecutions. Data provided by Bristol City Council suggested that only seven formal complaints had been made over the last five years, with five resulting in enforcement action.
'It feels like the council don't want to prosecute drivers'
Marc Gulwell, 35, sight loss team manager at local charity Sight Support West of England said: "Personally, it feels like the council don't really want to prosecute drivers."
Gulwell has had two experiences he believes required more council action than the "slap on the wrist" the drivers involved received. In April 2021, he said a V Cars driver refused to let his guide dog in the car and, despite being informed of the law, drove off.
And last December, Gulwell said he was left waiting for two hours in the rain for a Zoom car in an unfamiliar area. The driver drove off once he saw his guide dog. When Gulwell complained, he said, he was told the driver had "dogphobia".
"Waiting two hours, it's annoying and frustrating," he said. "I ended up having to cancel a work appointment and just had to go home. I was so angry and upset."
While the council investigated both cases, neither was taken to court. "I don't want anyone to lose their jobs or their licences, but we need fairness and equality," Gulwell said. He added that drivers often don't accept jobs because they see 'guide dog' in the description, shrinking the pool of available taxis.
A Zoom Cars spokesperson denied refusing guide dogs. They said the firm works with the Sight Support charity and pays drivers a £5 incentive for journeys with guide dogs. "We have worked hard to find dog-friendly drivers in our fleet," the spokesperson said.
The Bristol Sight Loss Council said it would like Bristol City Council to publish evidence of what it is doing to improve the issue.
A council spokesperson said that when reports of discrimination or other serious behaviour issues with licenced drivers are proven, it can revoke licences and refuse applications for new ones.
Independent. Investigative. Indispensable.
The Cable is Bristol's independent, investigative newsroom. Owned and steered by 2,500 members, we produce award-winning journalism that digs deep into what's happening in Bristol. Investigative journalism strengthens democracy – it's a necessity, not a luxury.
As a members co-op, democracy is built into everything we do. We're 100% owned by thousands of Bristol members.
If we can triple our membership, this funding from the people of Bristol would make the Cable completely sustainable.
Join the Cable today