Why Bristol needs to build a sustainable food system – before disaster strikes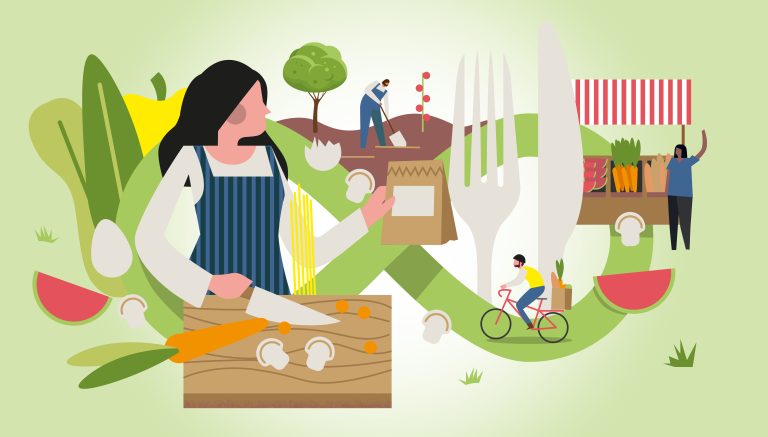 Food shortages have not been a problem for the UK since the Second World War.
Since then, we've comfortably settled into only producing about half of what we eat and importing the rest. Our supermarkets have developed an incredibly advanced system that allows us to have new, delicious and plentiful foods, whenever we want.
But disruption from trade deals agreed after Brexit and changes in consumer demand following the first lockdowns revealed how this system is balanced on a knife edge. There are no stores of food that could see us through disruption like this, and our vulnerable supply chains are getting more vulnerable as the government plans to import food from further and further away.
That's not to mention the increasing prices of food. Cheap food is often not good for our health but is important for our economy because as people still get by eating it, so wages can stay low. But now, the cheap food that fuels a low wage economy isn't cheap enough anymore, with people in work having to rely on foodbanks.
The UK food system is in a bad state. We should all be able to buy healthy food that's come through a supply chain where everyone involved can also comfortably afford it, and that's grown in ways that protects the environment, instead of destroying it.
Farmers are underpaid for their produce. The fees supermarkets are willing to pay them won't cover the increased costs resulting from climate change and increases in fuel and feed costs.
This cost-of-living crisis isn't the only thing to worry about. Climate collapse is coming, and the solutions to these crises will not come from our politicians. Cross-party ideological opposition to economic planning – for example the Conservative-Lib Dem coalition government scrapping a 2030 national food strategy – means we've missed opportunities to make the changes we need.
This is where cities can come in. In the face of future food shortages, cities offer an opportunity to build sustainable food systems that could protect large numbers of people, and also have an impact far beyond their boundaries.
Rising to the challenge
In 2021, Bristol became the first of two UK cities to achieve Gold Sustainable Food City status – in recognition of the city's work to build a more sustainable, fairer and healthier food system that benefits people, communities and the planet.
And now, Bristol Food Network is working on a new plan to take this further – up to 2030. The Bristol Good Food 2030 Plan will set out what we can achieve as a city and steer us in the direction of a strong, more resilient food system.
In Bristol, businesses, charities and community groups collaborate with the council to make change through the 'One City Approach'. This makes it easier for organisations to influence the decisions that have the biggest impacts on citizens' daily lives.
Because of the scale of cities, we can make tangible changes to our local environment. Food businesses and groups can reduce plastic waste, lower local emissions with electric vehicles and buy more local and sustainable products.
Bristol is one of the most engaged food cities in the UK. Our Gold Award Submission showed the massive amount of work being done across the city by businesses, charities and individuals. Lasting connections formed between organisations which now work as an interconnected web, collaborating on strategies and plans which we hope will make a tangible improvement to our city's environment.
The response to the lockdowns showed how community groups can step up. More agile than larger service providers, small community organisations did fantastic work protecting vulnerable people during these critical months. A small group might not be able to slow global climate change, but they can protect their communities by building infrastructure that can be relied upon in emergencies.
Some of the most impressive lockdown support projects were led by a handful of people working tirelessly to redistribute surplus to people who needed it most. People who had never done anything like that before took on huge responsibility. Neighbours stepped up to help people they'd never met. Businesses used the furlough scheme to enable their workers to volunteer to cook and distribute food.
Jamaica Street Stores collaborated with the People's Republic of Stokes Croft to feed hearty meals to local citizens. Easton's Thali Café made thousands of halal chicken curries which were distributed by National Food Service Bristol for months. It was wonderful to witness how, when we have the time and the money to do so, people are overjoyed to give their energy to helping others.
Sadly, many of these organisations have since closed or reduced their services. The two largest food delivery projects active during the lockdowns, Matthew Tree and National Food Service Bristol, both stopped delivering shortly after the lockdowns ended.
After the lockdowns ended, a lot of the food funding which poured into charities dried up, and what has returned since is not enough to cover rising costs. Front line services are struggling with rising demands and rising costs.
Thankfully there are a few exceptions to this trend. During the lockdowns, Heart of BS13 worked with Square Food Foundation, which reached out to furloughed chefs to prepare meals, which were delivered to families known to the charity.
Since then, Heart of BS13 has joined five other organisations as one of Bristol's first Community Climate Action Partners, meaning they've been granted thousands of pounds to invest in climate conscious community development work. They'll be composting and growing produce for their local area, and teaching people how to grow, cook and eat their own healthy, environmentally friendly food.
Increasing what we grow within the city could present a vital resource in an insecure future. Successful projects like this offer real hope in a difficult time.
A vision for a sustainable food city
Unfortunately, we're going to be in a much worse position the next time a crisis comes along. Voscur, Bristol's support agency for the voluntary sector, predicts we are going to see "an utterly devastating reduction in services and projects available to communities in our city." This will make us less prepared for the next disaster. We need good information sharing, so we can quickly identify the areas in greatest need and support the people working there.
It's not an easy future for food, but Bristol is one of the best prepared places in the country to weather the coming storms. And by investing in our community infrastructure now we can protect vulnerable local people from the worst outcomes of climate change. Collaboration within cities presents the best opportunity we have to protect thousands of people.
The Bristol Good Food 2030 Plan sets out what we hope the city can achieve by the end of the decade, and our Action Plans describe what organisations across the city are already planning to do between now and the end of March 2024. This framework, which will be published in the next few months, will forge more connections, helping make the most of available resources and working to impact our food system positively.
If you want your organisation to make a difference in the city's food system, it doesn't matter how big or how small you are. You can bring your voice to essential conversations across the city. You can tell policy makers what your community needs to see change. It's the job of Bristol Food Network to help you get your voice heard.
Bristol Food Network's vision is to transform Bristol into a sustainable food city. And it's our role to support, inform and connect individuals, community projects, organisations and businesses who share this vision.
Louise Delmege is partnership coordinator with Bristol Food Network. If your organisation is taking action to improve the food system please get in touch so we can include your work in the Bristol Good Food 2030 Plan.
Bristol Food Network is also organising The Get Growing Trail over the weekend of 3–4 June, an opportunity to explore the city's secret fruit and veg gardens. Go to bristolfoodnetwork.org to find out more, and go to bristolgoodfood.org to get involved with Bristol Good Food 2030.
Want more solutions for Bristol?
Reporting on solutions to Bristol's biggest problems is expensive.
We won funding to explore how to make this important work viable for a local paper like the Cable! But to keep doing it, we need funding that won't run out: monthly-paying membership.
Becoming a member, and encouraging others to join, means we can continue investigating solutions for Bristol into the future.
Find out more