Cake, Sewing Machines, Furniture…Plasters…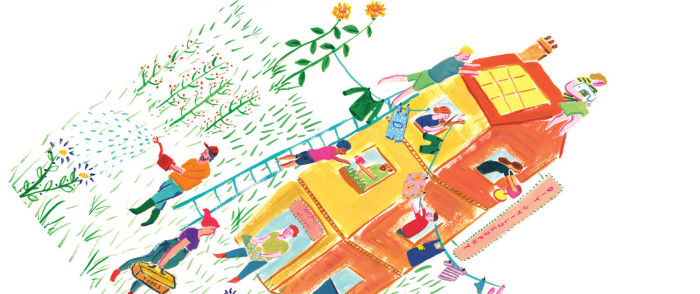 Claire-Lise Braun examines the resurgence of 'make-do-and-mend' culture at Bristol's Repair Cafe. Illustrated by Jayde Perkin – jaydeperkin.com
Bristol is not immune to the UK's gross economic inequalities. However, it is rife with grassroots organisations providing access to goods and services for little to no money. As well as benefiting those currently on low incomes, these initiatives could provide templates for further changes and offer alternatives to consumerism, based on reuse and sharing. Here is a look at one of them, the Bristol Repair Cafe in Fishponds.
Origins
The Bristol Repair Café, one of 16 in the UK, has been running on the first Saturday morning of every month since November 2013. It is an offshoot of a now-global movement started by once-journalist Martine Postma in Amsterdam.
Keeping things out of landfill is the main purpose of Repair Cafes, but it also encourages the sharing of skills and builds community networks. In spite of the name, the Bristol group is aimed mainly at residents of Fishponds. Founder Kate Jerrold, an energetic entrepreneur who runs an architectural antiques business, would like to see more groups sprout up in all of Bristol's 'villages'.
The Fishponds group
Repair Cafes are not religiously affiliated, but, as is common for many English community groups, it uses a church as a venue. The proceeds from tea and cake go to Christian Aid. Kate tells me this location is not 'set in stone', but works well in terms of keeping costs down and also making sure lone women feel safe to attend (which she believes they may not in another venue, such as a pub).
Laura fixing my favourite summer skirt
Any awkwardness a newcomer may feel (atheist or otherwise) is soon dissolved by the warm welcome from Kate and the volunteers. The latter stand or sit behind folding tables bearing the tools of their 'trade', eager to get their hands on your broken things. This eagerness makes it easy to forget you're meant to be learning self-sufficiency, rather than taking advantage of some very kind and skilled strangers. "Interestingly I think our experts benefit as much as the people with things to fix." says Kate. "Being part of a sharing, caring community seems to add something to our experts' lives. We all leave feeling happier, and helping others seems to have tangible benefits for the fixers too. "
The volunteers' skills are largely distributed over traditional gender lines – men fixing furniture and machines, women sewing. However there is no sense that it has to be that way, and everyone is welcome to watch and learn any skills they are interested in acquiring.
Culture change
"Usually things that go wrong are simple faults that only need time", says electrical engineer Michael Shaw, echoing the Repair Cafe Foundation's website. The knowledge required, he tells me, can easily be found on the web.
The movement's long term ambition is to show a demand for 'Cradle to Cradle design', to replace what visitor Polly calls our 'disposable culture' with something more sustainable. In July 2014 a report to Parliament from the Environmental Audit Committee opens with a frank statement: 'The current way our economy consumes resources is not sustainable'. It states that 80% of the 'circularity' of a product is determined at the design stage (think of the adage "only rich people can afford cheap shoes").
It also suggests, with many people trying to escape poverty, there is a need for a new approach to consumption: 'McKinsey estimates that, by 2030, 3 billion people who are currently living in poverty will join the middle-class level of consumption. […] The Green Alliance predict a "great resource price shock", as the combination of rising demand and constrained supply leads to rising prices […]'').
Another perspective is that of a report by the Centre for Sustainable Design (CFSD) on Repair Cafes and Hackerspaces, which states that with increasing "knowledge over the workings of products and the issues that drive products to end-of-life […] Potential civil society campaigns may emerge against built-in product obsolescence'.
The case against?
Do such initiatives only provide a temporary fix, a consolation prize for those who can't afford anything better? Are they a symptom or facilitator of a two-tier economy? It is the view of some that charity allows governments to wash their hands of social justice. Indeed, one of the occasional BRC seamstresses is local Conservative politician Lesley Alexander. In this revival of the 'make do and mend' spirit, it's not always easy to tell where Big Society ends and the alternative 'disruptive innovation' begins.
At times, Repair Cafés have been accused of "competing with professional repair specialists" and charities. On the Repair Cafe Foundation's website, the answer to the first charge is "quite the opposite". In a world where the knee-jerk reaction to a possession breaking has become 'it'll be cheaper to buy a new one', the Cafes remind us that repairs are possible. Often volunteers only offer a diagnosis and refer more complex problems on to professionals. Indeed, a minority of the volunteers (like Michael) are professionals themselves, and are encouraged to display and hand out business cards. As for charities, Kate doesn't quite understand their concern. She suggests that faulty items are more likely to be binned than donated, and may end up in a charity shop anyway – worth more once fixed.
Money-saver
Despite the criticisms voiced above, this movement can be a great help for those on low incomes, who may struggle to pay for repairs or replace faulty items. Polly, a 40-year-old taking a break from her career as a solicitor to be a full-time parent, would prefer not to buy a new printer. Her whole family relies on just her husband's income (childcare costs would more or less cancel hers out if she had kept working).
Polly is fairly typical of Repair Cafe crowds. The CFSD report, for instance, finds that 70% of attendees have at least a Bachelor's degree. To reach the range of people who could benefit, Kate is considering varying locations within the area to try to attract a more diverse audience. Despite the obvious attractions, I have never seen the long queues for ' fixers' I had expected. Kate blames a lack of awareness and vows to ramp up publicity. Trust may also be a factor, with urbanites being cautious of hidden costs or catches. Kate reports a "lift" when tentative visitors find out the service really is free. With this in mind, would regaining the ability to trust our neighbours be even more valuable than material possessions? This will require overcoming a few socio-cultural barriers whilst prolonging the life of products that were never meant to last. These projects, challenging the wasteful behaviours of our society, could be the start of genuine positive change, from the bottom up.
Kate sums up: "I really think the future of sustainability is in our hands and people want to be more involved. There is a real feeling that we have had enough of consuming thoughtlessly and want some responsibility for our own waste. This movement shows we do care and want to be part of a solution."
"We'll end up with a currency-less society because money doesn't work."
Bristol Repair Cafe volunteer Michael
Visit https://www.facebook.com/groups/bristolrepaircafe/ for more information.