Catastrophic thinking, with author Robert Muir-Wood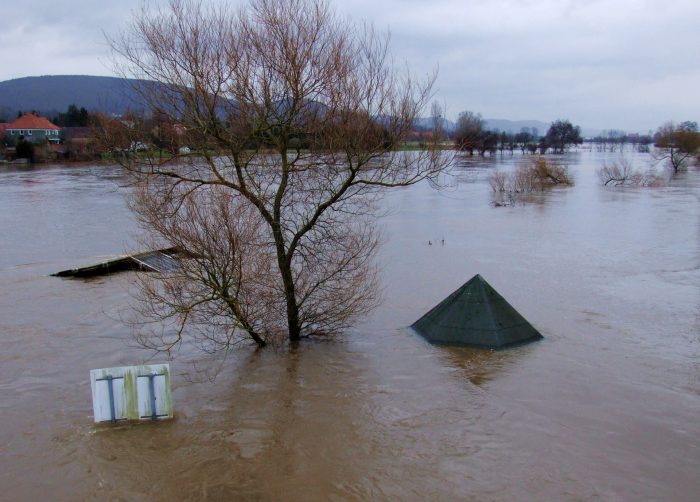 The author of 'The Cure for Catastrophe: How we can stop manufacturing natural disasters' met up with one of the Cable Media Lab at Bristol Festival of Ideas.
Photo: Axel Kuhlmann
The latest book by global risk expert Robert Muir-Wood, blends science and story-telling in a compelling exploration of the 'forensics of disasters'. From Haiti to Haiyan, The Cure for Catastrophe brings together accounts of disasters from across the globe and looks at the role of policy and practice, human action and inaction, in determining the outcomes and level of suffering brought on by 'natural disasters'.
"In 1607 there was a storm surge caused by a deadly combination of high-tide and a wind storm. It flooded all the areas around the Bristol Channel, and probably killed around 2,000 people."
Bristol Cable: You have spent decades among the rubble, visiting towns and cities newly blitzed by some form of 'natural' disaster. Can you tell us about how first became intrigued by catastrophe?
Robert Muir-Wood: I did Earth Sciences originally and was also doing some writing and was by New Scientist to cover a Royal Geographical Society expedition in the Karakoram Mountains between Pakistan and China back in 1980. I saw the opportunity in that experience to understand how science could be applied to better make sense of disasters, specifically earthquakes. An opportunity came up a couple of months later to go out with a team of seismologists after a big earthquake in Algeria.
Back then a team would arrive after a disaster to learn from it but that research was often a bit self-serving and didn't necessarily make a difference on the ground. I was always interested in the two sides of the problem; the science of what had happened in the earth but also the consequences, what had happened to the buildings and the people. From there I became increasingly fascinated with how human action can make a difference in disaster.
In the UK, do you think people see disaster as something that happens elsewhere?
Generally, disaster or catastrophe does happen elsewhere, in the big scheme of things. Although, and few people know about it, in 1607 there was a storm surge in this region caused by deadly combination of a really high tide and a wind storm. It flooded all the areas around the Bristol channel, from Banstaple to Swansea and into central Bristol. It probably killed about 2,000 people, so there is the potential for disaster in this area.
Flooding is clearly already a problem, it's going to get worse especially in relation to coastal flooding. Sea level rise will be in the news more and more worldwide. Miami has a huge problem already because ordinary high tide is starting to flood some streets and you can't build a flood wall because the rock on which the city is built is go porous, the water simply goes under any wall you build.
In the UK, a crowded island, we have lots of coast and lots of people living on flood plains, this is a big problem and people do live in denial about it. If you already own a house and its in a flood plain, you don't really want to talk about that because you know the value will go down if people view it as having risk. The easy thing is that you should be building houses up a few steps to take them out of the flood zone. You can build in flood plains if you build up appropriately.
There should be much more focus on telling people what the situation is, how it is expected to change and what they need to do to cope with it, and fight this denial of the fact that we have risk. In the US, before you can the get national flood insurance, your community has to have signed up to become part of a programme. At a community level, they send in experts to talk to people about where the flood hazards are located and the community agrees not to build in certain areas. They get community buy-in, which is so important. There should be much more of that here.
And where is the role of politics in this?
Politicians do well from disasters, studies have shown this. They turn up after a disaster, hand out some money and they win votes doing it. This is a big problem because there is excellent evidence to prove that if you invest effectively and take action on mitigation, you get fantastic returns, but risk reduction doesn't win votes and politicians know this.
Do you think that in the 'age of austerity' people are even more reluctant to see their taxes go towards preventing something that may not happen in their lifetime?
Absolutely, if you have just had a big flood, people will vote for some money being spent on a flood wall, if you haven't had a big flood, they won't because they don't see the use of it. It's a big problem. I believe the solution is that we need to measure to disaster risk independent of the politicians. We need to periodically measure how a country is doing in reducing its disaster risk, through modelling.
Japan has started doing this. The city of Tokyo has started a process whereby they have given themselves a goal to reduce by fifty per cent the number of casualties caused by major earthquakes, they are going to measure through modelling if they are making progress and publish the findings. I think this is the future. If you have a mayor of a city who knows that there is independent assessment of their level of risk and it is going to be repeated, that's the sort of thing the newspapers will pick up and actually challenge the mayor as to whether they are making progress.
Speaking of progress, given that climate change and disaster risk are inextricably linked, are you worried by the Trump administration's recent moves in dismantling Obama's Clean Power Plan and undermining of the EPA in basically every way possible?
It is certainly a set-back but there is still a lot of momentum, there are lots of forces moving things forward now. China is taking leadership around sustainable energy, though it's probably driven more by air quality than anything else. China is also one of the leaders in reducing the impact of disasters, because it knows that it's own government is threatened if there is another big earthquake like the one in 2008, it significantly undermines the authority of the party to rule the country. So there are forces out there.
I spend a lot of time in the US giving talks about climate change and actually they are very polarized on the subject but people are also quite receptive to the idea that you can take the politics out of it and de-polarize it. I was involved in a project a couple of years ago called 'Risky Business', which was looking at the impact of climate change in the US through to 2100, funded by both Republican and Democrat sides of wealthy American society, so whatever Trump does, there is huge amount of momentum, there will be a big push back, so I wouldn't completely despair at this point.
On that optimistic note, can you tell us about the title for your book?
I deliberately chose the title 'Cure for catastrophe', to test how optimistic can we be. We are making progress but we are not making enough progress and there are innovations which are making a difference but not there aren't enough of them. I am overall somewhat optimistic that it is possible to get on top of a number if not all classes of disasters if you can inform people and educate them, get them to appreciate what risk is, then you enable them to take effective decisions on their own behalf.