'The pressure is driving people out': nursery workers warn government childcare reforms will backfire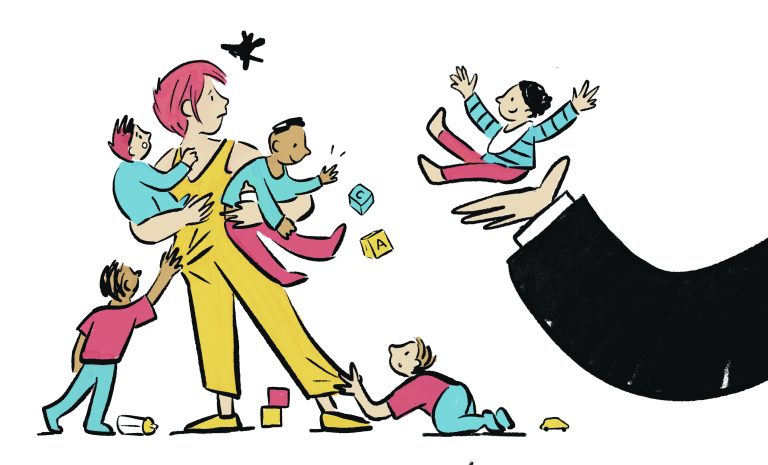 "You don't go into childcare for the money – you do it for love," says Lisa*, a room leader at a privately run nursery in north Bristol.
"But lately I've found that because people are under so much pressure, they end up hating the job," adds Lisa, who has been three years in her current role, supervising the day-to-day running of a room, and in the sector for double that time. "So they leave. Six members of staff have gone within the last few months."
Last year the Cable reported on local parents' struggles to access places for young children, with nurseries throughout England facing staff shortages due to post-Covid burnout and the cost of living crisis.
In recent months, the government has announced headline-grabbing plans to significantly expand free childcare over the next 18 months, to cover children aged two and under as well as three- and four-year olds who already benefit. 
Many parents have welcomed these. But early years staff working across Bristol have told the Cable that without significant investment in the sector, the proposals could be unworkable – because the necessary nursery places are unlikely to exist.
'People are almost crumbling already'
Since we reported last summer on the impact of staff shortages, nursery workers say problems have got even worse, as both stress and the cost of living crisis have pushed people to consider their options.
"We're struggling with recruitment, and also losing staff," says Roxane Twining, director of charity EveryFamily (formerly Brentry and Henbury Children's Centre), which has operated in north Bristol since 2004. It has already had to close rooms and shorten its available hours as a result.
"It's stressful in this current climate – our special educational needs numbers are really high this year," she adds. "We've got all these lockdown babies that have come through, there's a massive impact on them being able to form relationships and be independent, with less speech and language, and more challenging behaviour."
People working in early years have argued that these circumstances make a convincing case for the government to ensure there are enough qualified workers to meet children's needs. Instead it is pushing through plans from this autumn to relax minimum staff-to-child ratios from 1:4 to 1:5 for two-year-olds, to give nurseries more flexibility to increase numbers and in theory reduce fees. The UK's are the third-highest in the developed world.
Neil Leitch, chief executive of the Early Years Alliance, describes the move as a "disgraceful" one that "risks sacrificing the quality of care, and importantly the safety of our youngest children, and heaping more pressure on a teetering sector".
Lisa expects the change to cause even more workers to look for other jobs. "They're scared about the ratio change, because they're almost crumbling with the workload they've got," she says.
Private nurseries 'will close' under new plans
The recruitment crisis has already contributed to some nurseries shutting completely. Now there are also fears that fresh government plans – to expand free childcare to to infants aged one and two, to help people get back to work – will in fact cause even more to close.
One reason paid childcare in England is so eye-wateringly expensive is because the government does not adequately fund the existing 15 or 30 'free' hours of childcare parents can access for three- and four-year-olds. At EveryFamily, for example, the £5.06 per hour the centre receives for each three or four-year-old from the government, via the council, falls short of costs by about £1.62 per hour.
As a result of this, many nurseries – especially private ones – have relied on being able to charge working parents more for taking care of younger children to cover the shortfall. With costs of food and utilities rising far faster than the government's funding contribution and the National Living Wage, which also went up by 10% in April, this approach was already being squeezed.
"If [childcare for two-year-olds] is then offered as free, but funded at a level that doesn't cover costs, many providers' business models simply won't work," says Simon Holmes, head teacher at St Philip's Marsh Nursery School.
"They'll close," adds Holmes, whose nursery is one of just 12 run by the council in Bristol, which provide services for families in some of the city's poorest areas.
Even if the government comes up with adequate funding for its plans, the question remains of how the increased places would be staffed. Minutes from the most recent Bristol Schools Forum, in late March, warned that implementing the childcare expansion proposals would require double the number of nursery places within two years.
"The government needs to ask, who's going to support with recruitment and retention, and what's going to happen about training a high quality workforce?" says Holmes. "Are these plans an investment in quality for our children – or are they just to get get people into work and warehouse children?"
*Not her real name
Independent. Investigative. Indispensable.
The Cable is Bristol's independent, investigative newsroom. Owned and steered by 2,500 members, we produce award-winning journalism that digs deep into what's happening in Bristol. Investigative journalism strengthens democracy – it's a necessity, not a luxury.
As a members co-op, democracy is built into everything we do. We're 100% owned by thousands of Bristol members.
If we can triple our membership, this funding from the people of Bristol would make the Cable completely sustainable.
Join the Cable today