Bringing the fight against apartheid to Bristol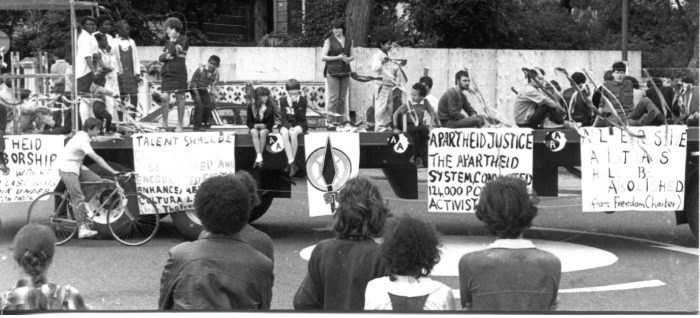 READ MORE FROM
THE 12TH EDITION
Remembering Ron Press, the white South African dissident who became a leading light in Bristol activism.
"Reason indicated that the era of my usefulness was at an end." At the age of 33 and not long after serving two terms in prison, Ron Press, a dissident and trades unionist decided to leave South Africa altogether. As a committed Communist, he first got the Party's permission and eventually ended up in Bristol in 1965.
"To commemorate the Soweto uprising of 1976, and its brutal suppression, Bristol Anti Apartheid Movement organised sponsored walks that drew hundreds out around the Mendips"
But Ron's period of usefulness to opponents of apartheid South Africa was far from over. With a doctorate in chemistry, he was able to get a full-time job at Brunel Technical College, but most of his considerable energy went into his part time work with what he describes in his unpublished autobiography as Bristol's "small Anti Apartheid Movement group". He soon became its secretary and his passionate commitment to the cause, which I witnessed as an AAM member, helped to bring about the rapid growth of the group in Bristol.
AAM had developed out of the campaign to boycott the apartheid regime in South Africa and, after the killing of 69 unarmed protesters at Sharpeville in 1960, branches sprang up throughout the UK. The aim was not only to maintain a consumer boycott of South African products but also to keep its government's racialist policies in the forefront of British political debate.
National publicity
The Bristol branch attracted national publicity by throwing flour bombs during South Africa's Davis Cup match in Redland, picketing the all-white Springboks rugby match at the Memorial Ground and even getting one of its members – Pete Jordan – on to the pitch where he scattered tin tacks, successfully delaying the kick off. To commemorate the Soweto uprising of 1976, and its brutal suppression, Bristol AAM organised annual sponsored walks that drew hundreds of sympathisers out around the Mendips. AAM attracted supporters from beyond those already committed to left-wing politics and its Bristol branch – with support from Bristol University's film school and the local shop of the film and television trade union ACTT – later ran a successful course for six African National Congress television trainees.
One of Ron's motivations was his awareness of the disparity between the way he had been treated in South Africa and the way the regime dealt with black South Africans. Even though he, a white dissident, had been arrested there, he had soon realised that for a black man arrest would have meant "beating, brutality and humiliation" – or even death.
In 1985 I was working on a documentary in South Africa and Namibia and got an insight into that disparity of treatment. At that time Namibia was effectively a colony of South Africa and we filmed a peaceful demonstration in Katatura, the black township of Windhoek. Suddenly it was attacked by Koevot, the military wing of the Namibian police, and a woman demonstrator, blood streaming from a truncheon blow to her head, tried to hide behind our white crew as we filmed. We were not touched but one of the police leaned over me with his long club in an attempt to continue the beating.
For much of its existence the African National Congress stuck to peaceful protest. But, as Ron put it, "the Apartheid state had declared war on the African workers. The time was fast approaching when the movement would have to fight fire with fire." Because of his technical expertise, he was asked by the ANC to help to develop ways of smuggling in hand grenades and TNT into South Africa, concealing detonators in shaving cream dispensers and bomb-making packages in picnic hampers.
He also developed a rocket for distributing leaflets in the South African townships which had its test launch at night from his back garden overlooking the Ashley Down allotments. "It arched into the sky and rose about 20m. There was a noticeable flash. The can shot off and the leaflets scattered like rain on the vegetables in the allotments."
Uncomfortable truths
At a meeting on February 6 1989 the Bristol AAM reaffirmed "our total and unconditional support for ANC, SWAPO and the Frontline States [the latter a coalition of apartheid-opposed nations]". But though I was a member of Bristol AAM, I had become somewhat wary of that "unconditional". I had been deeply impressed by the courage of rank and file members of SWAPO (the South West African Peoples Organisation) that I had met while filming secretly in Namibia; when one of them shouted, "Tell the world!" to us as we left after the Koevot attack, I made that the title of a Channel 4 film, a film narrated by Bience Gawanas, a London-based member of SWAPO.
"Ron developed a rocket for distributing leaflets in the townships, which had its test launch from his garden overlooking the Ashley Down allotments"
But when I approached SWAPO about the possibility of returning with Bience to Namibia to film the country's first free elections in 1989, I encountered some evasiveness. It gradually became clear that Bience had been detained by SWAPO whilst visiting her daughter in Zambia and was now being held in a SWAPO prison in Angola, along with hundreds of other former SWAPO members. Evidence began to emerge of the systematic torture of those detainees but, when I then attempted to make a documentary about this, I got a swift thumbs-down from Channel Four and the BBC. Only a positive response from S4C, the Welsh fourth channel, enabled me to get back to Namibia and put the horrific experience of some of the detainees, released through United Nations pressure, on the record.
Bristol's Anti Apartheid Committee was less than enthusiastic about raising the issue and opposed a motion about it that I tabled (with my fellow AAM member Rupert Daniel) at its 1990 annual general meeting. Our motion welcomed the victory of the opponents of apartheid in the Nambian election but added, "We are disturbed by evidence of the imprisonment, torture and, in some cases, deaths of prisoners held by SWAPO as alleged South African spies." The motion was carried overwhelmingly but I could find no mention of it in the Bristol AAM minutes that are now held in the Bristol Archives.
Later investigations by Amnesty and others confirmed the evidence of victims. "Over a thousand SWAPO members were purged in Southern Angola," writes Paul Trewhela, once a prisoner of the apartheid regime, "tortured to confess to fabricated charges of being South African spies, imprisoned in pits in the ground for up to seven years, executed at will, and very frequently worked, starved or beaten to death." Trewhela adds "that similar atrocities had happened in ANC camps".
There are occasional hints of unease in Ron Press's autobiography, but he remained a Communist Party and ANC loyalist to the end. "I am proud to be a white South African because of those of us who fought apartheid," he wrote. He had good reason to be proud of his role in what he calls "the liberation struggle's… foothills and valleys" as opposed to the leaders in "the cold rarefied atmosphere of the mountain peaks". I went to his funeral at the Woodlands cemetery, Almondsbury, in 2009 and there was a thrilling moment when ANC representatives turned up and joined in the singing of 'Nkosi Sikelel' iAfrika' by his graveside.
"…Let us live and strive for freedom / In South Afrika our land."
It is perhaps as well that Ron Press did not live to see the greed and corruption manifest in the leadership of South Africa today. If he had, I like to think he would have spoken out about it – solidarity should never mean silence.