Bristolians are blocking Oxford Circus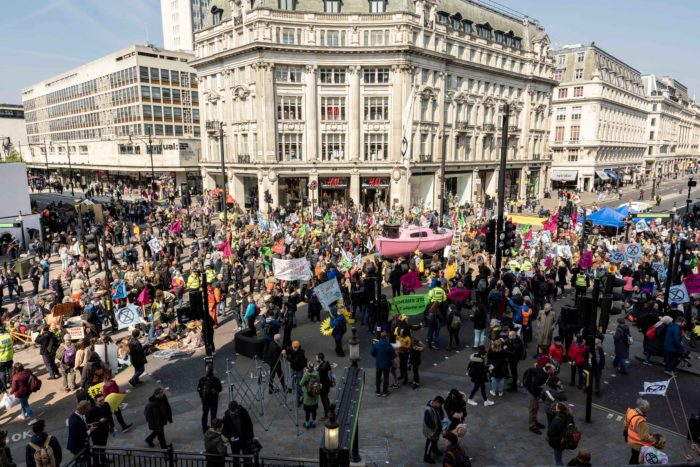 Around 400 people from Bristol are protesting in London and part of Extinction Rebellion.
Photos: Vladimir Morozov
Around 400 Bristolians have pledged to bring parts of London to a standstill as part of Extinction Rebellion's two-week international protest, which started yesterday (Monday).
Extinction Rebellion Bristol told the Cable they have been assigned to peacefully occupy Oxford Circus 24 hours a day for several days. Operating in shifts, participants will be based in Marble Arch, where most will be camping. Other teams will be spread across four of London's other busiest locations – Marble Arch, Waterloo Bridge, Parliament Square and Piccadilly Circus.
The environmental campaign group intends to disrupt 80 cities in at least 30 countries during the next fortnight in their biggest coordinated effort to date. They are demanding urgent action by governments to address the ecological and climate crises.
"There will be a series of arrestable public actions," an Extinction Rebellion Bristol spokesperson said. "This will be an attempt to cause economic disruption and put pressure on the UK government on the issue of tackling climate change. If there is no response from the government in the first few days of occupation, Extinction Rebellion will be escalating the peaceful disruption on Wednesday (17 April)."
"If there is no response from the government in the first few days of occupation, Extinction Rebellion will be escalating the peaceful disruption on Wednesday"
By 11am on Monday, the protestors had shut down bridges, chained themselves to vehicles and blocked roads. They transformed Waterloo Bridge with music, artwork, a solar powered stage, a skate park, a giant temporary garden with potted trees and bright pink boat with the words "Tell the Truth" written in large letters on the side.
Many of the campaigners had walked from Bristol, Land's End, Wales, Oxford, Brighton, Stroud and the Forest of Dean with flags, banners and drums.
Extinction Rebellion's top demands include asking the government to 'admit the truth' about the ecological emergency, to reverse all policies inconsistent with addressing climate change and to work alongside the media to communicate with the public.
They want the government to enact legally binding policy measures to reduce carbon emissions to net zero by 2025 and to reduce consumption levels. They also want a new national Citizens' Assembly, to oversee the changes, as part of creating 'a democracy fit for purpose'.
Bristol roots
The movement originated last year from the Bristol campaign group Rising Up! They hosted a 3,000 ticket rebellion festival in Bristol last month to rehearse and plan for this big international event, and to train participants in 'non-violent, direct action.'
It has rapidly expanded around Britain and is now spreading around the world with high profile protests. They have previously shut down bridges, glued and chained themselves to buildings, poured buckets of fake blood outside Downing Street, obstructed shopping centres and airports by playing dead across the floor, caused security lockdowns at BBC buildings and stripped down to their underwear in Parliament.
On Sunday, the eve of the protests, the former Archbishop of Canterbury, Dr Rowan Williams, blessed their actions. He sat in a street circle outside St Paul's Cathedral in London and prayed with people of all religions. He said: "We are at war with ourselves when we are at war with our neighbour, whether that neighbour is human or non human.
"We confess that we have polluted our own atmosphere, causing global warming and climate change that have increased poverty in many parts of our planet. We have contributed to crises, and been more concerned with getting gold than keeping our planet green. We have loved progress more than the planet."