Looking out for each other's mental health during coronavirus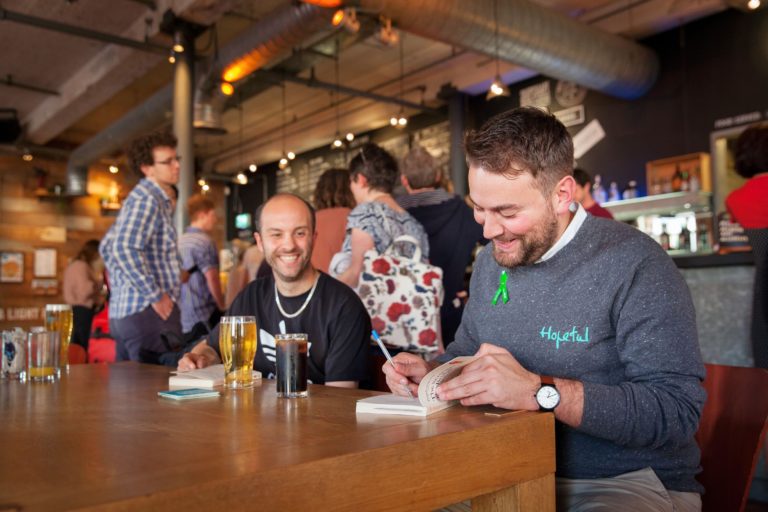 From washing our hands and social distancing to now investing in contact tracing apps and trialling vaccines, our physical health has received much attention. Every day, we're reminded of rising human losses, the spread of the virus and the collapse of the economy. But the public health emergency is having a much bigger toll on our mental health, and there are serious implications for the future.
But first, how are you feeling? Well? Not well? Are you worried? About work? The future? You're not alone. In times of crisis, especially, we need to get better at asking these questions more and checking in on each other. And remember, it's OK to not be OK.
Amid the COVID-19 outbreak, researchers worry about the long-term impact of the pandemic on people's mental health. According to a report from the International COVID-19 Suicide Prevention Group in The Lancet Psychiatry Journal, the mental health consequences of coronavirus and lockdown will probably last for longer, and peak later, than the actual pandemic.
In Bristol, mental health services and organisations continue to support people battling an often invisible, but very real, crisis. Helplines have sprung up across the city, like We Are Bristol, the Avon and Wiltshire Partnership's new 24-hour support line, and Safe Haven, funded by the regional Clinical Commissioning Group, and existing charities, like Mindline, extended their service and signposting.
Against the backdrop of this public health emergency, demand for their services is increasing as people experience more anxiety, distress and worries. But early interventions and prevention mechanisms – at an individual and universal level – can ameliorate the long-term consequences on mental health.
More complex issues, fewer resources
While at the start of lockdown things were quiet, in the last two weeks we've seen a jump in new referrals from GPs, A&E and self-referrals, Jez Spencer says, Hope Project manager at mental health charity, Second Step. "More people are now presenting themselves in distress, whereas before they were isolating themselves."
The Hope project is a suicide prevention service in St Pauls set up in October 2018 and funded by the regional Clinical Commissioning Group. They work with men aged between 30-64, often in great distress, to prevent suicide among them. Hope aims to manage this distress caused by debt, financial, housing or benefit issues, or job insecurity.
Currently, they're having to assist more with practical problems, like access to food and medication, benefit issues caused by the crisis due to staff shortages, housing issues and getting into more debt.
For those with pre-existing mental health problems, diagnosed or undiagnosed, it's even more challenging; potentially making them worse. "For example, if one person's coping strategy has been around gambling, then what this does is it compounds that – potentially turning them back to gambling as a source of comfort for themselves."
There's also heightened depression, anxiety, and increased use of alcohol, Jez says, and for people who are already isolated to begin with, isolation because of coronavirus exacerbates their problems, and increases their risk of suicide.
With their current caseload of 80 men, the Hope project is dealing with more complex issues per individual and needs to support them for longer and more intensely than previously.
Jez worries about capacity as increased levels of distress could put a strain on mental health services. "We are only a small team and depending on the levels of capacity within other services we may not have those services to respond to our referrals."
Early intervention and prevention
Jez says there's a reason why they focus on distress instead of directly suicide. "What we know is previous risk assessments for suicide don't work, they're not effective, you cannot accurately predict whether somebody will take their own life or not."
Instead, The Hope model tries to prevent people from reaching the crisis point in the first place by identifying the root causes of the individual's distress. They then support the individual to mitigate those risks. Their risk assessment would look at feelings of hopelessness, if the individual has a plan, their history of mental illness, or significant recent changes like relationship breakdown, job loss or housing issues.
A detailed and personalised safety plan, set up by NHS co-funded website 4MentalHealth, would entail focusing on the individual's immediate safety, helping them to develop healthy coping mechanisms and listing who they can talk to when in distress, including family, friends, and helplines. As well as being free to use, "it's a good prevention tool… and they can get help straight away", Jez says. With a questionnaire at the start and end of the six months, Hope tracks progress made. Within the last two weeks, Jez has already been delivering this safety planning training for North Somerset youth services.
But interventions targeted at individuals with heightened distress must be coupled with universal intervention targeted at the public to improve mental health across the population.
We've already seen examples of universal intervention early on in the health crisis. At a local level, Bristol city council's pause on debt collection for unpaid council tax is one. At a national level, with over a quarter of employees in the UK signed up, the furloughing scheme is another.
But fast forward to a few weeks later and the scheme could be wound down as early as July, the Guardian reports. Though a no cliff-edge end to the furloughing scheme is promised, the uncertainty around job security in the coming weeks and months will have a ripple effect on many people's mental health, potentially lasting longer and peaking later than coronavirus.
"So, we're talking in the next two to three years we'll be seeing the impact of this on people's mental health", Jez says. How bad it gets, however, "depends on what type of support we're able to offer people, and if we can mobilise ourselves and other services to proactively identify people struggling and get them the support earlier there's less likelihood to be a spike in suicide."
More people calling, but spending less time on the phone
Tom Hore, Director of Bristol Mind, highlights a wider social issue that is obscuring the extent of the mental health problem. Since the introduction of lockdown, Bristol Mind increased their helpline service from a five-night service to a seven-night service with an additional listener.
While they've received more calls, Tom says that "the calls tend to be a bit shorter. So, people stay on the phone for less time." It's difficult to say why that is exactly, he explains, but normally Mind gets frequent calls from outside where people may feel they have more privacy.
With lockdown, people may not have the private space or feel comfortable at home to call the helpline or want anyone to know they are, Tom adds. "So, that might either be making their calls shorter or they might not be calling at all."
"The stigma around mental health [and] suicide prevents us from talking about it and all that does is increase stress for people", Jez says. We, too, as individuals can play a big part here in early intervention and prevention.
"One of the things we need to get better at as a society", Jez says, "…[is having] the confidence to ask people if they're OK and to not be scared of the answer." All we need is compassion, empathy and a listening ear. There's always help out there.

If you're in crisis and need immediate support, please call 111 or call the Samaritans for free on 116 123 or email jo@samaritans.org.
Independent. Investigative. Indispensable.
The Cable is Bristol's independent, investigative newsroom. Owned and steered by 2,500 members, we produce award-winning journalism that digs deep into what's happening in Bristol. Investigative journalism strengthens democracy – it's a necessity, not a luxury.
As a members co-op, democracy is built into everything we do. We're 100% owned by thousands of Bristol members.
If we can triple our membership, this funding from the people of Bristol would make the Cable completely sustainable.
Join the Cable today