Revealed: Developer's huge price hike and outdated profit calculations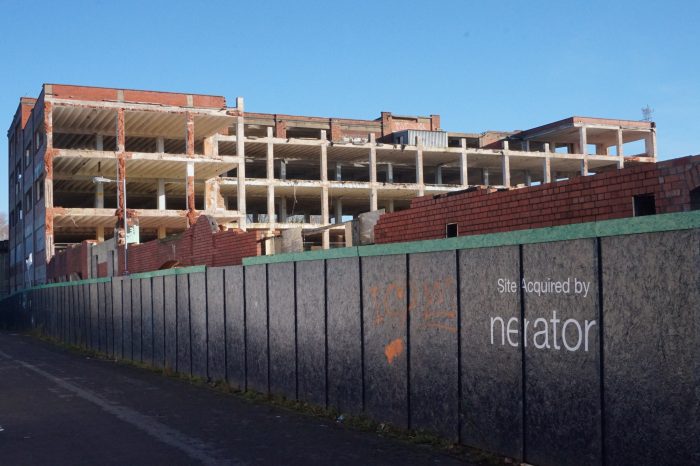 Controversial development set for decision on Wednesday as campaigners step up fight
The whole viability system is "hugely flawed"
A confidential document obtained by the Cable regarding the controversial redevelopment of the Elizabeth Shaw chocolate factory in Easton calls into question the decision by the developer, Generator Group, to include no affordable housing in the 135-unit plan.
The application is set for planning approval this Wednesday, with council officers recommending that it goes ahead. But an unredacted copy of the scheme's 'viability report' obtained by the Cable shows that Generator's profit calculations are based on 18-month-old house prices, in an area of the city where values have been rising steeply during that period.
***update on planning decision here***
"raising the bar for residential values in a previously undesirable area."
The viability report sets out plans to sell homes on the Chocolate Factory site at well above typical local market rates and "attract purchasers from more affluent parts of the city". The document states that even after setting prices at this "premium", returns on the development would be pushed below an industry-wide expectation of 20% profit if any affordable homes were included. The report argues in doing so a "negative land value" would be achieved, resulting in it becoming not profitable enough or "unviable" in planning terms.
Central government policy dictates that councils cannot allow affordable housing quotas – which in Easton are set at 40% of any development – to override viability considerations when it comes to approving planning applications.
However, the document reveals that these profit calculations are significantly outdated as they are partly based on sales of properties in the surrounding area from summer 2015. Property website Zoopla estimates that, almost 18 months on, these same homes' value has risen by an average of almost 20%, or from around £235 to £278 per square foot.
A similar markup in value within the development would have a big effect on how much money Generator makes. The fact that prices are likely to continue rising between now and when homes in the Chocolate Factory are marketed is also not taken into account. This puts a serious question mark over Generator's continued insistence that including any affordable housing in the scheme will make it not profitable enough.
Council planning officers seem to acknowledge this in their recommendation for approval to councillors, stipulating that if the development has not commenced within 18 months then the issue of affordable housing contributions must be revisited. But the fast-rising market in BS5 means the picture is undoubtedly already different from the one set out in the viability report.
Nick Ballard, organiser from campaign group, ACORN, has called on residents to lobby councillors about affordable housing. "ACORN demanded the unredacted copy of this report and this unredacted version sums up perfectly why Generator were desperate to stop us seeing it," he said.
"The viability report uses figures over a year old. Since then prices have continued to rise unchecked meaning that Generator's profits will be far above what they project here. ACORN demands that councillors reject this application as the report it is based on is worthless."
 "A cloak of secrecy"
Excerpt from publicly available report
George Turner, an investigative journalist who has written extensively on housing and planning issues, said: "When a property developer asks for a reduction in their affordable housing obligation, they are asking to remove a public good to increase their profits. It is a subsidy. For that reason, as a number of court decisions have confirmed, it is unacceptable for that decision to be taken without public scrutiny."
The whole viability system is "hugely flawed", Turner told the Cable.
"In many cases," he added, "developers use the cloak of secrecy [afforded by commercial confidentiality] to submit viability reports that have been constructed with the sole purpose of removing affordable housing to increase the profits.
"The result is that affordable housing which could have been built has been lost. Bristol Council should be asking itself why a company which for the last two years has generated huge profits is proposing a major development which it claims will struggle to be financially viable."
Operating profits (after all tax, salaries and costs) for Generator Group have been 9.32% and 42.35% for 2015 and 2014 respectively.
Generator Group did not respond to a request for comment.
Community responds to mounting housing crisis
The chocolate factory development has attracted some 400 objections and a 2000-signature petition, and has been criticised by local councillors, Bristol West MP Thangam Debbonaire and community groups.
Mr Ballard of ACORN added that by deliberately seeking out the 'more affluent', Generator are showing "contempt" for local people.
"Easton may have been an 'undesirable area' for companies like Generator looking to squeeze as much profit as they can from our communities, but clearly that changes as soon as they sniff an opportunity to line their pockets," he said. "Generator do not care about Easton or Bristol; they refuse to engage with local residents and [have] publicly stated that they didn't know their profit margins. If they think they're going to get away with this they can think again. Rest assured, we will fight this tooth and nail at the planning stage and if necessary, far beyond it. Generator need to hear this loud and clear, this development will not go ahead without meeting local housing need."