Bristol's vibrant urban farming scene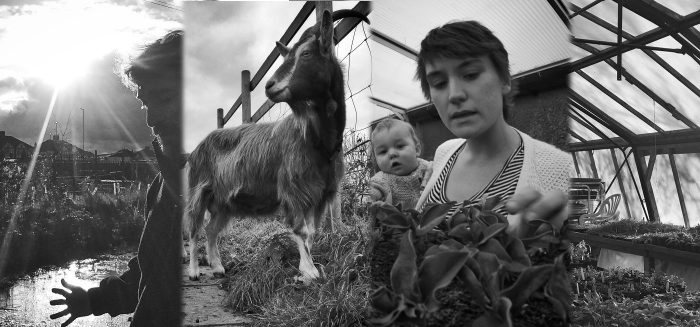 Urban goats, mushrooms and Bristolian salad: how local city farmers are taking food production into their own hands.
Words: Laurie King
Photos: Colin Moody
Living in a bustling city like Bristol, people often forget that they are not far away from pockets of rural idyll, where resourceful people are cultivating and building alternative food systems within the city. This winter, I visited three food growing projects that each have a special relationship to the environment: Feed Bristol, Street Goat and Purple Patch.
Although unique in how they work with wildlife and animals, all of these urban growing projects exist to reconnect people with nature and with their food. In a world where we are often unaware of where our food comes from, and where wildlife and biodiversity are threatened by our food system, these projects show that farming, when done in the right way, can help nature and people to thrive.
Feed Bristol
What? A six-acre food growing site in Frenchay.
Who? It's managed by the Avon Wildlife Trust, but the site hosts six different enterprises: Sims Hill Shared Harvest, Edible Futures, Upcycled Mushrooms, Hedgerow Herbs, Burley Inclusive and their own wildflower nursery.
It is possible to lose yourself wandering around the Feed Bristol forest garden, by the pond or in the fields of crops cultivated by local businesses. While taking us on a tour of the site, manager Matt Cracknell explains that the main aim is to champion ecology and conservation in a food growing setting to create a nature-rich city.
Volunteers can learn to grow food in a way that nurtures wildlife and benefits the soil through building habitats, planting wildflowers for pollinators and using organic gardening techniques – and can take home produce along with their new knowledge.
Matt believes "agriculture can be a solution to supporting nature recovery" if done in a nurturing way. For instance, the volunteers plant wild carrots to attract hoverfly, which feed on aphids – a more natural form of pest control that doesn't rely on chemicals.
At Feed Bristol, the Wildlife Trust engages with 6,000 members of the public each year from all walks of life, and takes on 500 annual volunteers.
Matt tells us that seeing how many people are touched by food growing is what keeps him inspired: "Getting under the sky, hands in the soil, being outside and on a beautiful site – this has a great impact on people's psychology and inspires curiosity about nature."
www.avonwildlifetrust.org.uk/feedbristol
Street Goat
What? A collective of people raising, milking and eating their own goats.
Where? An allotment site in Troopers Hill, and a 5.5 acre site for grazing conservation in Blackwell. Street Goat also want to help other groups set up similar projects elsewhere in Bristol.
Patrick Mallery says he is "always travelling in the opposite direction to everyone else", going to the outskirts of the city to urban farming projects during the day, and returning to the city centre in the evenings. Between his own business, Upcycled Mushroom, based on the Feed Bristol site, and his share in Street Goat, Patrick gets the majority of his food and his income from urban farming.
Street Goat, situated at an allotment at the top of Troopers Hill, is a community supported agriculture (CSA) project – meaning the community shares the responsibility for running it. Members of the group help to look after the goats – including early morning milking – and contribute to the costs of the project. In return they get a share of the milk on a weekly basis.
Photos:
Colin Moody
The members set up the project to challenge the industrial animal farming model, which is all too often responsible for environmental destruction. At Street Goat, members grow their own meat, and milk their own dairy. Whereas Patrick used to be vegan, he is now happy to drink goats' milk and occasionally eat the meat, knowing that the animals have been treated well. "They are very happy goats", Patrick tells us – just as one goat, called Lilly, starts nibbling my jumper.
Up at the Blackwell site, where the CSA partners with Avon Wildlife Trust on a conservation grazing project, are 16 male kids, which Patrick explains are good for biodiversity. Rarer plants can thrive where they would usually be smothered by invasive species.
The Street Goat project hosts several volunteer days a year.
Purple Patch
What? A smallholding growing salad to sell to local businesses and the public – and grazing cattle.
Where? Right behind the densely populated St Werburghs, in a valley between the railway and Muller Road.
Finding Purple Patch for the first time is quite an amazing experience – from bustling St Werburghs you head down Boiling Wells lane and suddenly you are on a smallholding, surrounded by plants and animals. I'm greeted by Mary Conway, who runs the business, and her baby, who accompanies her as she works. Mary calls the land a 'micro-rural community'.
From edition 14, OUT NOW!
Read more from this edition.
Mary explains that the smallholding – where the growing and grazing all form part of a holistic system – is unique because it has such a rich history. In a time when peri-urban (on the outskirts) and urban farming was the norm, the smallholdings were given to soldiers after World War 1. Some of this one is still owned and run by relatives of the original owners. Since then, it has been a market garden, and then a large pig farm, with 300 pigs, up until they converted to cattle in the 1990s.
Going back even further, it is possible to see a medieval strip lynchet, an earth terrace which was used as part of an ancient British field system. Not only that, but the Boiling Wells spring is the oldest municipal water supply in Britain. Mary laughs as she explains that sometimes she finds history enthusiasts coming on pilgrimages up the muddy track.
"I've always lived in cities but see urban farming as a way to bring the rural into an increasingly urban world," she explains.
"There's nothing quite like sitting in the field as the sun goes down and imagining all the things I'm going to do. The best thing an individual can do is make decisions guided by love, and do what makes you feel alive, only then can they make the world a better place."